We know using manipulatives for math is a huge benefit to kids, but what about using them for English grammar?
English On A Roll
uses word cubes for their
English Grammar Teaching Method
.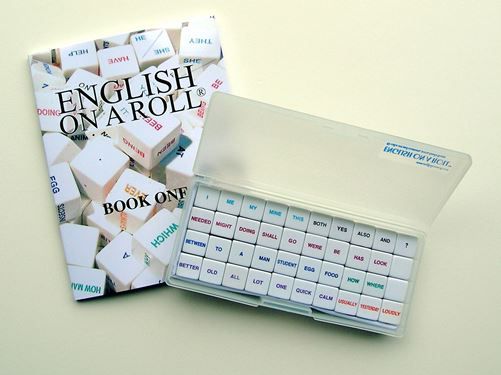 English on a Roll was created by Linda Hopkins Koran in 2001. She was teaching English to students that did not speak English and she did not speak their language and she needed to find an easy way to teach them English. She came up with the idea and started with wooden blocks and paint to help them learn.
English On A Roll can be used with any one ages 5 through adults. It can be used with students that are in special education, that have autism or dyslexia, students learning English as a second language, regular students learning English Grammar, a spring board for creative writing, or just for fun.
The English Grammar Teaching Method comes with the Instructor's Manual and one Cube Set that can be used with up to six students.
The Instructor's Manual is a 142-page softcover book. There are 37 lessons, a cube guide, and a section about English On A Roll. The Cube Guide lists all the blocks including the words on each block, their part of speech, the color of the letters, and their function.
Each lesson is set up the same way to make teaching easier and includes a Prep, Notes and Vocabulary, Teach the Concepts, Games/Conversation, and Written Exercises section. The Prep section tells you everything you need for the lesson including which cubes to use, and what pages need to be copied and handed out. The Vocabulary section gives us the part of speech and examples or definitions. Teach and Concepts is written to the instructor and tells you exactly what to give each student and when. Conversation/games suggest games that can be played to go with each lesson. Finally, the Written exercises include fill in the blank sentences.
The Cube Set comes with 40 cubes and a sheet of blank stickers. All the cubes are white with different color lettering according to their group. The pronoun cubes have blue letters, questions words are green, nouns, articles, and prepositions are dark blue, verbs are red, adverbs are orange, adjectives are purple, and punctuation & conjunctions are black. There are two blank cubes that can be customized with the blank stickers. The cubes are about an inch on all sides and they roll very well.
Delaney loves words. She loves to write, spell, and correct everyone else's spelling mistakes!! Amber writes very well, but she doesn't love it like Delaney. Alaina is 12 and she is the one that struggles to write. She is the main one that has been using this method. The lessons start out pretty easy so we went through those pretty quickly and actually started in lesson 12- Adjectives and Adjective Phrases. It didn't hurt for everyone to go over the rules for each part of speech. Of course, the favorite part of the program are the games. They really liked rolling the cube to get the words they needed instead of just a bunch of sentences already made. Being able to move the cubes makes it easier to see what needs to be changed in a sentence to make it singular or plural, a statement or a question. We also like using the cubes for creative writing. It is fun to roll the cube to come up with a starter sentence for a short story or paragraph. This has been helping Alaina not be so fearful of writing.
There is a great video on English On A Roll webpage that shows how this method in action. You
English On A Roll will give you the

first ten chapters of the Instructor's Manual

and you can watch their

video of the method in action

.