One thing all my kids have in common is their love for reading. If they have a good book they are content to lay around and read until they are finished no matter how late at night it is. They even love when we get a literature program to review in the summer so they have an excuse to read. This summer we have been using Lightning Literature & Composition
British Early-Mid 19th Century Grade 10-12
from
Hewitt Homeschooling
.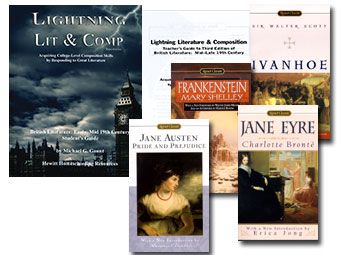 British Early-Mid 19th Century uses the unabridged novels Pride and Prejudice, Ivanhoe, Frankenstein, and Jan Eyre as well as a short story and some poetry. If you buy the complete pack this course comes with the Student's Guide and the Teacher's Guide and all four books. The short story and the poetry are included in the Student's Guide, or you can purchase them all individually through Hewitt. This course can be used for one semester or a full-year and there are schedules included for both.
The Student's Guide is a 233-page softcover book written directly to the student. It is divided into four Units. The Introduction to the book is very encouraging. It explains why and how you should read and write no matter if it is for fun or for an assignment. There are two lessons per unit and they are all set up the same.
Introduction- We are introduced to an author with a short biography.
The Selection- This is where you are to read your assignment. The short story and the poems are included in this section.
While You Read- A few questions to think about while you are reading that will help you with the literary lesson that follows.
Comprehension Questions- These are short answer or multiple choice and the answers are in the appendix.
Literary Lesson- These lessons have one topic per lesson and cover tone, setting, characterization, setting, humor, persuasive writing, and more.
Writing Exercises- There are several writing exercises to choose from. If it is a shorter reading an assignment you can choose one exercise and if the reading is longer you should choose two.
Perspectives- There are only two of these in the book. They are short articles to read one is about Romanticism and the other is Historical Fiction.
The Teacher's Guide is 87 loose pages that are 3-hole punched to easily store in a binder. It includes the Schedules, Writing Exercises, Discussion Questions and the Project Suggestions from the Student's Guide as well as the answers to the Comprehension Questions. There are also grading templates, grading tips and checklists for fiction, nonfiction, and poetry.
I have two high school students, but Delaney was the one that really wanted to use this course and her number one reason why she loves it is because there are writing assignments. She loves to write and can spend hours each day doing so and she wants to answer all the writing exercises. When we were asked which course we wanted to review Delaney wanted to study this one because she had Pride and Prejudice, and Jane Eyre on her list of books she wanted to read. We both think by using Lightning Lit & Comp has helped Delaney's writing. The writing exercises cause her to think outside of what she would normally write about. She also likes the questions that are asked before you start reading she said they help her look for things she may not have noticed.
We have used Lightning Lit & Comp for
seventh grade
&
eighth grade
. Members of the Homeschool Review Crew received not only high school products from Hewitt Homeschooling to review but also elementary and junior high. Be sure and click the banner below to read those reviews.