Time flies, and there are so many things for our teenagers to think about. What to study in high school? What about college? Summer jobs? Volunteering? How about internships? I have been reading the new
Internship for High School Credit
from
Apologia Educational Ministries
to help us understand them more.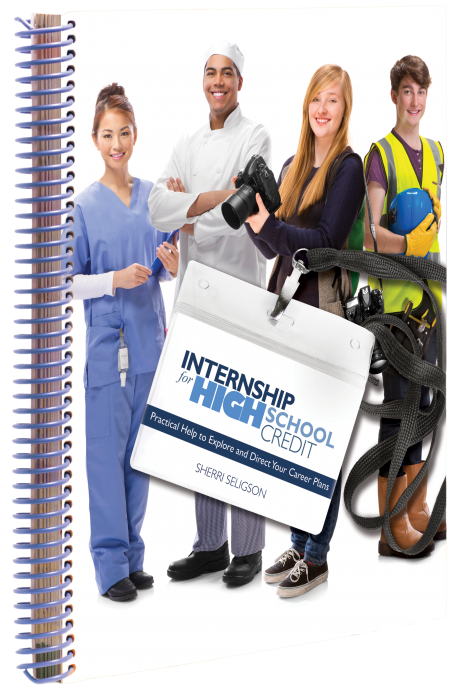 When I think of internship I usually think more along the lines of a specific craft. I have operated an in-home cake decorating business for many years. My kids started helping when they were young and gradually learned more as they got older and were more capable of the task. Through the years some of my kids loved helping out and some of them hated it. Actually, my 12-year-old is my artist and is wonderful at modeling fondant figures. I see this as an internship and I guess I should have given all my kids credit for that. Oops! But really an internship can be with any company or professional. The main point of internships is for our high school students to gain work experience and the opportunity to explore different careers before deciding what they would like to do with their lives and before wasting time and money on college. My son is in college and he is already looking into some internships for next summer and now we are thinking of internships for my high school kids.
The Internship for High School Credit is Practical Help to Explore and Direct Your Career Plans written by Sherri Seligson. The purpose of the book is to walk parents and students through the internship process. It is a 100-page spiral bound workbook divided into five parts. Part 1 & 2 are about getting started and information for the parents. The rest of the chapters are to be used while participating in an internship and focuses on two semesters and a course wrap-up. There are weekly worksheets, questions, and activities that help the student list their goals and record their experiences, and the time involved. The course wrap-up has the student writing an essay about their experience, writing a thank you note to their supervisor, and how to use their internship to update their resume. Since my kids have not participated in an internship yet we read the introduction and the first two parts. I will have Amber complete the consumable workbook sections once she has an internship.
The book defines internship and walks you through each step of the internship process. There is information on choosing a company or individual that relates to what you would like to do as a career. Everything is covered including how to prepare for an interview, how to figure out how many credits it is worth, writing a resume with a cover letter, and even pointers for before, during, and after the interview.
The section for parents answers questions that parents may have about internships. It includes things to look for about the location of an internship, child labor laws, and probably the most helpful is how to document them on the student's transcript including the course title, number, grades, and the number of credits.
If I were to choose a career right now I'm not sure I would know what I want to do so when Amber tells me she is unsure what she wants to do I totally get that. Delaney, on the other hand, has always wanted to sell real estate. I do have a friend that sells in our town and next summer after she turns 16 I will purchase her a workbook so that she can contact my friend and see if she is willing to let Delaney intern with her. Whether my teens decide they want to attend college or not I want them to seek internships to not only gain some work experience but to also see if they would like to make that job their career.
Social Media
I have
reviewed several products from Apologia
and this time the Homeschool Review Crew received Internship for High School Credit and
How to HOMESCHOOL with Stunning Confidence, Contagious Joy, and Amazing Focus (DVD & Coursebook
to review. You can read those reviews on the Crew Blog.