I read out loud to my family every evening before bed. We started this tradition back in 1991 with our first child before he was even a year old and it still continues. I should have kept a log of the many books I have read out loud. Out of all those books there have been some that I didn't finish, that we barely tolerated, and some that I have read several times. I just recently finished reading

The Secret Bridge

from

Lamplighter Publishing

out loud to my family and this one will definitely be pulled back off the shelf and read again later.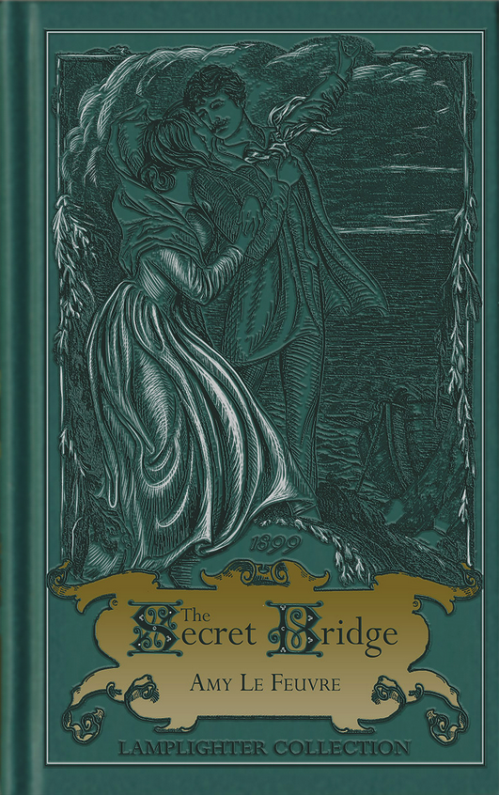 My youngest daughter loves things that are pretty, she loves colorful notebooks, bookmarks, paper clips, and pens. When we first received our book she opened it and she was in love with the book itself. It is a turquoise leather-toned embossed hardcover book with gold foil stamping on the title plate. It is very soft and smooth to the touch and it feels like I would imagine an old book printed in 1899 would feel.
Lamplighter Publishing aims to develop Christlike character one story at a time. They offer reprintings of rare books from the 17th, 18th, and 19th centuries. They do not publish books merely for entertainment or because they are good stories. They choose stories that will help children lay a Godly foundation. The characters not only show us an outward compliance to God, but a Godliness that will carry them through the trials they encounter. The republished works are edited with a Biblical framework that reflects Godly character. They also include footnotes at the bottom of a page with bible reference or definitions of uncommon words or phrases used in the book.
The Secret Bridge was written by Amy Le Feuvre in 1899. We see a young girl named Bridget who has lost everything she has ever known. Her mother died while she was an infant, her father recently died and she went to live with an uncle that she finds has also died. She is left alone and penniless. She meets a young man that tries to help her, but she doesn't want to accept his charity or pity. They decide to wed but to keep it a secret until he returns from a sea voyage. Bridget is forced to keep secrets about her marriage and secrets she unveils about her own life while her husband is away. Not only is Bridget awaiting the return of her husband and learning to love him through the letters he sends she also learns to wait for Christ as a bride awaits her bridegroom and falling more in love with Him through his letters in the Bible.
We all really enjoyed this book. There were adventures, poverty, riches, love, and hate by the seaside. The connections with the people are slowly developed to reveal the truth. I think Bridget's life is a great reflection of the Christian walk. Bridget needed saving from this wicked world and she learned to love and trust the man who rescued her. Just like people who become Christians. We know we need to be saved from this world, but we learn to love and trust Christ more and more while we walk with Him. I only have girls left at home and they do like a good love story, but we do not read romance books. I appreciate that this book gives us a good clean love story with morals. Lamplighter Publishing is not new to us, we already own a few of their books. I feel this is a company that I can trust and let my girls read what they publish.
Social Media
Lamplighter Publishing
The Secret Bridge
Facebook
Twitter

@lamplighterbook
Google +