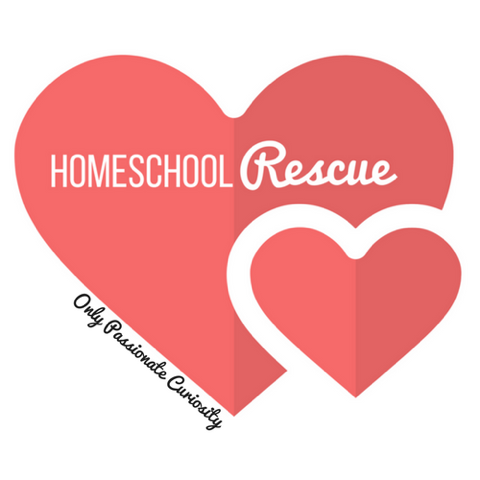 No matter if you are new to homeschooling or if you have been at it for a few years there are those days where we all struggle. It might be your kids, but it is often the moms' who need the help and encouragement.
Homeschool Rescue
from
Only Passionate Curiosity
is a great place to get the help you need.
I can remember when we first started homeschooling back in 1995. We only had two kids, my husband had a normal work schedule, we had a set time for school every day, we weren't involved in very many outside activities, and we kept the same schedule every day. Since then we have added three more kids, my husband is always on call now, the kids have friends, activities, summer jobs and volunteering, plus way more stuff in our house. The actual schooling part is easier for me now, but the time management has become more difficult and sometimes I feel I have lost control.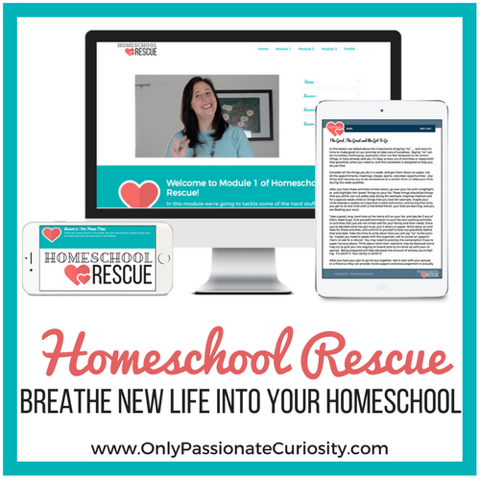 In Homeschool Rescue Heather Aliano offers help for not only newer homeschool families but even families that have been at this for many years can also benefit from it. There are five modules and the course can be completed in 60 days, although you can take as much time as you need.
Module 1 ~ Triage Your Homeschool
Module 2 ~ Time Management Systems & Organization
Module 3 ~ Curriculum Planning & Organization
Module 4 ~ Setting Students up for Success
Module 5 ~ Teaching Older Students
Each Module includes a video given by Heather where she encourages you to take a look at what is going on in each of these areas of your homeschool. She offers advice on how to make the changes necessary to get yourself and your school back to being productive. The lessons within each module also include homework and other resources. You also have the option of downloading the audio, the transcript, and the note pages for each lesson.
Another part of Homeschool Rescue is the private group Facebook page. This is a great place to connect with other homeschool families that may be going through the same things you are right now. Anyone can ask questions, offer advice, or just to encourage one another. Heather is part of the group and is an active participant.
After all these years of homeschooling, I really needed Module 3. We have a plethora of curriculum and books. Sometimes this is a blessing and other times it is a curse. I usually let my girls have a say in what text they would like to use for the school year and they will sometimes use this to their advantage. Instead of sticking it out when things get hard they will sometimes want to switch to a different curriculum. Heather talks about the curriculum being too easy or too hard and offers some advice and questions to answer to help determine if your choice is right for each child.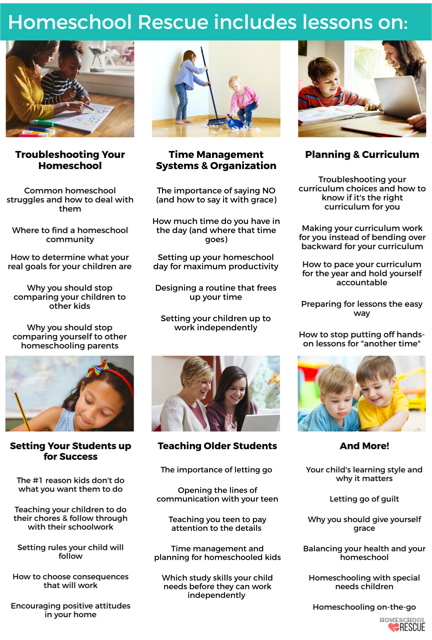 Homeschool Rescue is a great resource to give your homeschool a checkup. It helps you take a look at your school and areas of your life that need some changes to make it run smoothly.
Heather truly wants to offer help for homeschool parents. She is only going to offer Homeschool Rescue as a "live class". This is not actually a live class where you have to commit to being available at a certain time each day but by starting new people at the same time gives Heather the chance to offer more personal help and encouragement with the class because everyone will be new at the same time. Your subscription will not expire, you will have lifetime access to Homeschool Rescue and the Facebook group for $97.
Homeschool Rescue class that will run June-July is

available now

.
Social Media