There are so many things to think about when you homeschool especially when you get to high school. Taking the ACT or the SAT, writing college applications are just a few of those things that need to be considered. I want to make sure that my kids are ready for these next big steps and we have been using the

High School Essay Intensive

from

Institute for Excellence in Writing

to make sure they are.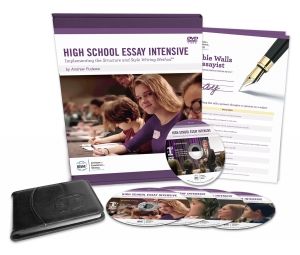 High School Essay Intensive is an essay writing course that will prepare high school students for the writing portion of the SAT, the ACT, and the college application personal essay. It includes 6 1/2 hours of seminar on five DVDs, student handouts, and the Portable Wall for Essayist. The DVD case is padded vinyl and very good quality. This is the second edition updated in 2016 for the new SAT & ACT.
DVD Part 1a ~ General Strategies for Essay Writing: Length and Structure

Initial Exercise

A Hurt and Rescue Operation

What is an essay?

Two Questions Writers Need to Ask

Translating Assignment Length to Paragraphs

Types of Paragraph

The TRIAC Paragraph Model

Essay Models

DVD Part 1b ~ General Strategies for Essay Writing: Invention and Style

Canons of Rhetoric

Invention

Practicing Common Topics of Invention

Practice with TRIAC Outline

Style

Sentence Patterns

Literary Devices: Schemes and Tropes

Practice with Sentence Openers and Figures of Speech

DVD Part 2 ~ Understanding and Preparing for the New ACT Essay

ACT General Guidelines

The Assignment

Strategies for Planning

Strategies for Writing

Strategies for Proofing

DVD Part 3 ~ Understanding and Preparing for the Redesigned SAT Essay

General Guidelines

The Assignment

Annotating

Handy Annotation System

Annotating Practice

Strategies for Planning

Strategies for Writing

Using Effective Vocabulary

Strategies for Proofing

DVD Part 4 ~ Strategies for the Personal" Essay

General Guidelines

Sample Essay Prompts

Strategies for Planning: Pop out from the Crowd

Strategies for Writing, Editing, and Proofreading

A Not-So-Secret Secret

Final Practice

Concluding Comments

Last Bits of Advice for Life

Portable Walls for the Essayist ~ This Portable Wall is a tri-fold resource that contains many tips to help the student write a good essay. It also has a pocket on one side.
Student Handouts ~ There are 25 worksheets that go along with the course. There are places to write definitions, lists of prepositions, -ly adverbs, and writing prompts.
This course is given by Andrew Pudewa. We get to sit in on an actual class where he is teaching the Essay Intensive. His classes are not boring he does throw in a little humor. Not only is he teaching writing an essay he also gives tips to the students so that they are observant to how they normally write and to use that to their advantage. He also encourages the students to take notes whenever they have the opportunity.
Delaney has been using this course, she is my writer and was very excited for something new. She writes mostly fiction so she could use some instruction on writing an essay. Since she is not taking the SAT or ACT in the next couple of months she decided she wanted to start at the beginning of the course. In Part 1a Mr. Pudewa starts with a writing assignment. It also covers the general types of essays, how to organize paragraphs for the body of the essay, and how to think about what to write. Delaney never has problems with coming up with something to write about, but if she is writing an essay about something she isn't very interested in she tends to rush through it. So far this course has helped her organize those thoughts so that her essays are more organized. Delaney writes every day, she has a journal, several stories started, she has a notebook with story ideas, she also has a notebook with characters she has made up along with their names and character traits. Mr. Pudewa suggests keeping a notebook of things you read that catch your eye, so Delaney started that notebook too.
IEW is not new to us. We have

reviewed product

for them and we have purchased their products several times. Everything we have used from IEW and Andrew Pudewa has been a great addition to our school.