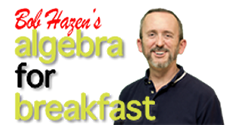 One thing moms learn after having more than one kid is they all are very different. My adult son is loving all of his higher math classes in college, but all four of my girls would rather do anything else than math. My girls still living at home would have to admit they have been having a little bit of fun using
Grades 5/6 math enrichment
from
Algebra for Breakfast
.
Bob Hanzen
created Algebra for Breakfast because he wanted to help even younger children understand algebra. He loved math as a child and after becoming a math teacher later in life he realized most children didn't like it. He started looking for ways to get kids to connect with math without just memorizing everything. He started identifying principles that would make algebra and math fun and rewarding. These principles can also work for higher maths and sciences too. He started holding Summer Algebra Institute camps and after these were successful he wanted to help kids everywhere, so he started Algebra for Breakfast online.
Algebra for Breakfast is math enrichment for Grades 3/4 and Grades 5/6. There are a couple of different ways to
purchase the program
. The Full Members Package contains:
1-month access to Algebra for Breakfast
Set of 164 math manipulatives
Math dice
Skip Count CD
The program uses short video lessons, physical tools, and printable worksheets to help kids understand algebra. I wanted to use this with Alaina, so I chose the Grades 5/6 for her. We received access to Algebra for Breakfast, Skip Count songs download, and the Math Dice. There are 40 lessons with each one having at least one video lesson. Some of them also included a previous video segment or a video specifically for the parent, a worksheet, and an answer key. It teaches fun games using the number cards or a deck of regular cards & dice, but it also has the student working on skip counting, negative and positive numbers, finding the unknown, trinomial factoring, and more.
The first lessons are prep activities to learn how to play the card & dice games. The only real prep is creating a set of Number Cards and then printing any worksheets for the lesson. Alaina and I watched the video lesson together and then I would print the worksheet for her. She likes math more than her other sisters, but she has been leery about algebra because her older sisters complain about it so much. Once we started using Algebra for Breakfast she said she doesn't think it will actually be that hard.
Amber said even math games need snacks!
There were a couple of videos that I even had my older two watch after Alaina and I did because I thought they could benefit from them. Of course, we included the big sisters in on the games because they are fun and they are very competitive when it comes to games. Algebra for Breakfast is a fun math enrichment program that would be great to use over the summer with any child in 3-6 grade or even older kids that may not understand algebra.