My kids think it's funny when I tell them about my first computer class in high school. They can't believe that something that simple was actually a class for high school credit. Now it is my kids turn to learn about computer technology by using

Digital Savvy

from

CompuScholar, Inc.
CompuScholar, Inc. used to be known as Homeschool Programming and Amber used the

KidCoder Visual Basic

from them a few years ago. Crew members were offered our choice of

Digital Savvy

,

Web Design

, or

Java Programming

to use with our kids. I figured everyone needs to know about the digital world even if they don't want to go into web design or programming, so I chose Digital Savvy to use with my kids.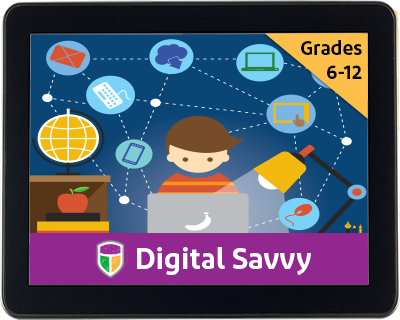 Digital Savvy is a one-year course that is an introductory Information Technology class for students in grades 6-12. The only prerequisite is basic keyboarding, using a mouse, and basic computer navigation. There are 25 chapters with additional supplemental lessons. The first few chapters cover computer hardware and software, operating systems, computer maintenance, and then there are chapters that cover spreadsheets, presentations, digital images, social media, creating a webpage, careers and professional skills and more. Each chapter has several lessons that contain a lesson video, lesson text, and a quiz. There is also hands-on activities to allow students practice time and to see if they understood what they learned in each chapter.
The parent and student each have their own login. The parent account has access to all the lesson content the student does, but also contains a Teacher Guide and the Quiz Answer Key. The students' quizzes are self-graded and can be seen in the student account or the parents. The parent is responsible for grading the activities and projects.
Amber and Alaina have both been using Digital Savvy. I had Amber start with the first chapter and she is working her way through the program. She started first and Alaina didn't really have any interest in the hardware and software of the computer yet, so I let her choose where she wanted to start. She decided to start in chapter 15 and has worked through to chapter 17. These chapters are about Digital Images, Internet Communications, and Social Media. I think she chose to start with those because she already has some understanding of those and they interested her. She is on some forms of Social Media, but there are some we will not allow her to have until she is older. That didn't hinder her, she still enjoyed covering that chapter. This program has been very easy for the girls to use and the directions are very easy to understand.
CompuScholar is an online computer program that helps you understand computers and the programs you download on it. I have been doing lessons 15, 16, and 17. Lesson 15 is about editing images and after you finish the whole chapter you do an activity that goes with the chapter. So in lesson 15, the activity was to draw on the computer and editing photos. It was a lot of fun! Now I'm working on social media and today I learned about Pinterest and in each chapter, there is stuff about that specific thing. I will give it 5 stars!!
~~~Alaina
CompuScholar is an easy way to learn about computers, but not so easy that it is boring. It teaches you about simple things such as a mouse to more complex things such as the inside functions of the computer. CompuScholar is a good program to learn the basics of computers and I look forward to learning more.
~~~Amber
CompuScholar, Inc now offers seven different online programs and textbooks including courses about game and Android programming. You have the option of purchasing the self-study course or the teacher-led course by the month or yearly.
Social Media
Homeschool Programming Facebook
Homeschool Programming Twitter

@hsprogramming
CompuScholar Facebook
CompuScholar Twitter

@compuscholar
Even if your children aren't interested in learning to code or programming computers they will still benefit from what CompuScholar has to offer and surprisingly young kids can learn so much.
Stop by the Crew Blog to read reviews about Digital Savvy, Web Design, or Java Programming.