If you know anything about my family you know that my son is taking a lot of advanced math classes in college and is loving it, but all four of my girls have always disliked math. They would much rather read a book, write a book, or be doing some form of art. A couple years ago Amber reviewed

Make It Real Learning

from

Math Mammoth

and she said that those were her favorite math books of all time. So when the Crew was offered to review Math Mammoth again I knew we wanted to try a complete curriculum this time. I chose the

Light Blue Series

Grade 7

for Alaina.
Math Mammoth has several 1-7th-grade options to choose from. They offer complete level curriculum in their Light Blue series, the Golden series for teachers & tutors, and they offer worktexts by specific topic in their Blue series. There is also the Make It Real Learning that uses real life problems for grades 3-12, and International, Spanish, and South Africa versions available.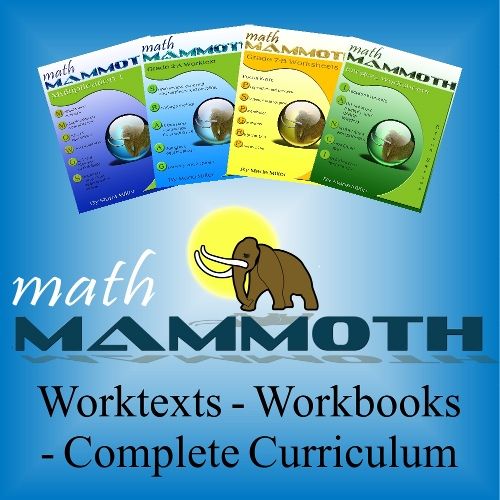 Alaina has been using the download version of the Light Blue Series Grade 7. It is a pre-algebra course and students should be able to go straight to an algebra course when they are finished. It comes with the Student Worktexts, Tests, For Review, Probability Simulations, Bonus Soft-Pak, a user guide, and a Common Core Alignment PDF. It was very easy to download and print exactly what we need for each day.
Student Worktexts~Grade 7 comes with part A & part B with an answer key for both. There are five chapters containing 223 pages in part A & Part B has six chapters over 292 pages. It starts with the order of operations and covers the distributive property, integers, equations & inequalities, ratios, percents, some geometry, the Pythagorean theorem, and more.
Tests~ There is a test and answer key for every chapter an end-of-the-year chapter test.
For Review~ this section has 2-4 pages of review problems for each chapter plus a link to a web page to make extra worksheets.
Probability Simulations ~ includes exercises using dice and coins.
Bonus Soft-Pak ~ Is free when you purchase the download version at

Homeschool Buyers CO-OP

. It is a math program that will give your students extra work on the computer or on a printable worksheet.
Math Mammoth Grade 7 is written directly to the student. There is not a teacher's manual included. The instructions and examples are given right before each problem sets and most of them are enclosed in a box. Each chapter includes a chapter review and there are plenty of helpful links on the internet to take you to instructional videos, math practice, and games.
Alaina started at the beginning of the book and has been working her way straight through it. One of my older daughters struggle with the concept of the slope, so I skipped ahead to chapter five in the book and had her utilize some of the provided links, read through the instructions, and work the problems for some additional help. One thing I really love about this curriculum is that problems include real things that relate to my kids. There are problems that use customer waiting times, number of text messages sent, numbers of rainy days, and puzzles.
Members of the Homeschool Review Crew received the Light Blue Series in different grade levels, individual titles in the Blue Series, and a few people received the International Version. You can read those reviews on the

Crew Blog

.
Social Media
Facebook
Google +
YouTube