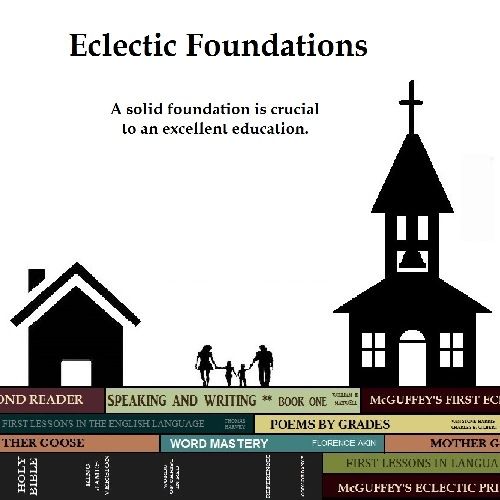 Eclectic Foundations

offers an all inclusive Christian Language Arts program. The first book in the series is the

Eclectic Foundations Language Arts Level A

and is recommended for children just learning to read or struggling readers.
Currently, there are three levels available from Eclectic Foundations with plans for six more. The nine levels will have your child reading at college level upon completion while covering Phonics, Grammar, Spelling, Reading Comprehension, Handwriting, Composition, and Poetry.
Level A contains 144 lessons and will last 36 weeks when 4 lessons are completed each week. Eclectic Foundations comes with a Teacher's Guide, Student Workbook, McGuffey Flashcards, and an Appendixes booklet. It uses the McGuffey's Eclectic Primer (revised edition) and other books from the early 1900s. These books can be found and printed online free of charge or you can purchase them as a physical book. The McGuffey reader is not used until the second quarter and the rhymes from the Real Mother Goose are printed directly in the Teacher's Guide.
There are detailed directions in the Teacher's Guide for each lesson, and it includes games, and a Mother Goose poem for each day. The Student Workbook is 266 pages of consumable worksheets. Each week there is a new letter introduced. Every day the student will start by reciting the alphabet then they should practice writing the new letter in a multi-sensory way. Worksheets are for provided for each day using the new letter and combining it with letters already taught and includes finding the letter, mazes, handwriting, matchings, and a reading page. There are five laminated pages in the Appendixes book that are used during the game time and writing activities. The flashcards contain words that should be colored according to the correct part of speech.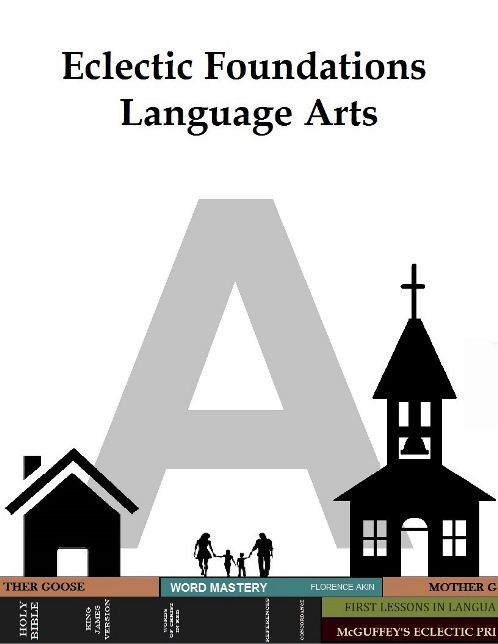 This is not a new curriculum, The Eclectic Education Series was used from mid 1800s-mid 1900s. The language has been updated so that it is easier to understand and teach, but the original biblical worldview is still there. It has proven itself to be successful with those mid 1800s-mid 1900s educators having their students ready for college after completing the eighth grade. This collection of textbooks were the most popular until the public school system was secularized.
Eclectic Foundations Language Arts Level A is very easy to understand and simple to use without unnecessary busy work. The student is encouraged to form the new letters out of play dough, colored sand, or by using a dry erase board and markers and the games are set up for the student to hear the sounds used in the words. The short simple daily lessons offer enough variety to keep young kids interested without becoming overstimulated or discouraged.
Social Media
Eclectic Foundations
Eclectic Foundations Language Arts Level A
Facebook