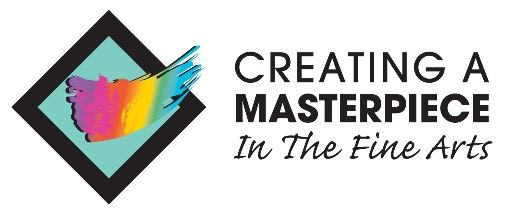 Alaina loves art, she loves to paint, draw, color, and sculpt. She is very creative on her own, but she also enjoys learning new things. Recently she has been using the
Monthly Plan
from
Creating A Masterpiece
to develop new skills.
Creating A Masterpiece is just what the name suggests. It is online fine art lessons for all ages given by Sharon Hofer. There are over 144 lessons available in a Monthly Plan for the whole family for $39.99 a month.
Sharon has been teaching art classes for over 15 years. She wanted to focus on the quality of the project as well teach different techniques. Children as young as 4-5 can create masterpieces that are normally completed by high school students. They not only create quality artwork they also develop skills that will help them create masterpieces on their own.
The lessons are divided into levels. The Beginning level is meant to be fun and simple. The project is divided up into small sections and takes about an hour to complete the project. Levels 1-5 offer 3-7 full lessons with each lesson taking 1-2 hours to complete. There is Art in History section that discusses the history of an artist and includes instructions to complete a similar project. This section is just being developed and is a wonderful addition to the course.
Alaina was so excited when we received Creating A Masterpiece. We already own quite a bit of quality art products, so I gave Alaina the option of where to start. There are so many great projects to choose from she wasn't sure what to do first. I suggested looking at the different medium and choosing what she wanted to do first that way.
Acrylic

Batik

Block Printing

Carving

Conte' Crayon

Copper Tooling

Glass Mosaic

Gouache

Ink

Mixed Media

Oil Painting

Oil Pastel

Pencil/Charcoal

Sculpture

Silk Painting

Soft Pastel

Watercolor

Wood Burning
She decided to start with the Himalayan Kitten which is a Level 4 Lesson in Oil Pastels. There are four lessons in this project. Along with the video lesson, there is a list of supplies that will be needed, helpful tips for this project, pictures of the lesson highlights, and project downloads that include a list of supplies, and a high-resolution image.
Sharon starts each project encouraging the kids and reminding them that no two pictures will look the same and they will all be masterpieces and unique. She talks a little bit about the oil pastels and other supplies that are needed. This particular project uses a velour paper, but Alaina didn't want to wait to buy some so she just used her drawing paper. Sharon describes exactly what is going on and her instructions were very easy to follow.
Alaina chose to access the video content on her iPad mini. This worked great for her, she could take it to the table and could easily pick it up if she wanted a closer look at something. She also liked to pause the video if she was taking longer to finish what was just being shown on the video. After Alaina finished the first project Amber decided she wanted to join in on the fun. Amber is not as artsy as Alaina, so she wanted to start with an easier project. They did the

Lesson in Oil Pastels Winter Cabin from the Beginner Level and then moved on to the Lessons in Colored Pencil: Tropical Clown Fish Level 1. Alaina is always painting or drawing, but Amber doesn't normally like to. She was very pleased with her work and that it actually looked good.
Alaina is loving Creating A Masterpiece. She has completed her work entirely on her own. She hasn't needed any help with the program or the content. She is already thinking ahead and wants to work on wood burning and copper tooling next since that is something she has never done.