I'm sure every homeschool parent worries at some point about teaching their kids through high school. I love that I can choose curriculum to fit each one of my children but I also think there are certain subjects they all need to complete no matter what they think they want to do after high school. Biology is one of those subjects I want all my kids to study and we have been using

Biology 101

from

The 101 Series

.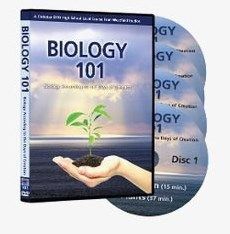 Biology 101 is a Christian high school Biology DVD course. It teaches biology from the days of Creation found in the book of Genesis and uses scripture in the films and in the Guidebook. There are 4 CDs that last 4 hours and 37 minutes, a guidebook and an accreditation booklet. There are 11 segments that should last 27 weeks and the Accreditation Booklet averages 5 hours every week. The DVD segment should be watched at the beginning and the ending week for each lesson. There are labs, research topics, field trips, reports to write, and extra books to read.
The DVD segments are the heart of the program and will give you a solid understanding of God's world.
Disc 1~ Introduction: Defining Life and Life Classification & Plants
Disc 2~ Aquatic Creatures & Avian Creatures
Disc 3~ Land Animals Part 1 & 2 and Mankind Part 1 & 2.
Disc 4~ Genetics: A Brief history of Biology & Cells and Genetics
The 114 page PDF Guidebook is a review of the information from the film including a quiz and discussion questions for each segment.
The Accreditation Booklet is a 12 page PDF and includes an overview of how the program works. There are also charts that list everything that should be completed for each week along with the amount of time it should take to complete it plus a column to record the exact amount of time.
All three of my girls have been using Biology 101. Amber & Delaney are both in high school and have been using the whole curriculum and Alaina is almost 12 and she has just been watching the DVD segments with us. They all agree that the films are done very well and they liked having an image to go along with the things being taught. Delaney loves words and she liked that Wes explained where words came from and how they relate to other things. He also gives tips on how to remember things like stigma and stamen. The stigma is the female part of the plant and can be remember because it has the word "ma" in it. Stamen is the male part of the plant and can be remembered because it has the word "men" in its name.
I really like how simple Wes has made Biology. They way he mixes pictures with video and charts in the DVD segment make the course interesting and memorable. It is recommended for ages 15 and up, but the information is appropriate for the whole family.
Westfield Studios began in 2004 by Wes and Tammy Olson. They are a homeschool family with four children. When their oldest two sons were in high school Tammy couldn't find a Biology curriculum that she liked. Wes loved science and had years of film production so he decided to make a Biology curriculum Tammy was looking for.
Members of the Homeschool Review Crew also received Chemistry 101 and Physics 101. You can read those reviews at the Crew Blog.
Social Media
The 101 Series
Biology 101
Physics 101
Chemistry 101
Facebook
Twitter

@the101series
Pinterest