I remember when we first started homeschooling and I had to find catalogs and call or mail order our textbooks. Things sure have changed and I'm pretty sure you can find everything you need to homeschool online. Lately we have been using the
Educeri Lesson Subscription Service
from
Educeri .......Educeri a Division of DataWORKS
.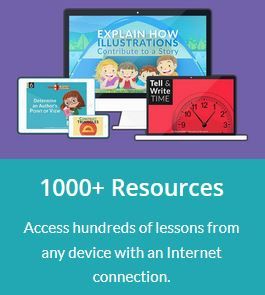 Educeri Lesson Subscription Service offers over 1,000 teacher lesson plans for grades K-12. They cover Math, Science, English Language Arts, History, Art , P.E., Music, Spanish, and English Language Development. Each lesson is given as a power point demonstration including a hand-out that can be downloaded and printed. These lesson plans are ready to teach requiring minimal time to choose what you need.
The lesson plans are to be used as a supplement to your regular curriculum. I have homeschooled all five of my kids and they are all different. I can explain something to each one of them and there always seems to be one that just doesn't get it or one that needs some extra practice. That is why these lesson plans come in handy. It is another way to work on a topic without completely switching curriculum or searching every where to find a different way to teach the concept or to find additional practice.
There are several ways to search for the topic you need. You can search by grade level, subject, use the search bar, or just browse through the list. If you still can't find what you are looking for you can send them a message to see if they have it.
After choosing your topic to go through the power point you simply click on the arrows at the bottom of the screen. You can go forward or back to the previous screen. There is also a menu where you can go to a specific page without clicking through them all. A lot of the pages have fill in the blank questions and when you click to advance a page it will answer the first question in red. To get the next answer you simply click the forward arrow again until the page is filled in. There are also Marker Tools that you may use in the power point. At the top you have the choice of using a pen, highlighter, or eraser. The marks you make on the page will stay there until you click on the erase all choice or leave that topic.
My girls are learning Spanish. Alaina is still easy while she is working on mostly vocabulary. The other girls are in high school and their curriculum is getting harder. The first thing I searched for was Spanish lessons. There is only one lesson plan for Spanish and it is high school level. We also used some English Language Arts, and some Math. There are several topics covered in both of those subjects. The Math even includes some flashcard sets.
We started with the
High School Spanish
. I printed out the student handout and started looking at the power point with two of my girls. As soon as they figured out how to use the program they didn't want my help. They worked on it together to help their pronunciations. Next I went through the English Language Arts. I printed off the handouts for
Use Colons
and
Use Correct Hyphenation
for my high school girls and they went through those topics alone. Then I found Algebra topics for Amber. She is currently working on polynomials and I found a lesson on that too. For Alaina I asked her what she wanted to work on. She chose
Identify the Author's Point of View
and
An Author's Argument
for grade 7.
I really like that there are so many topics to choose from and they are very easy to locate one you are looking for. The explanations get right to the point to make it easy to understand. My older girls like how this is set up for the Spanish because they would read the slide and then they would answer each question. They could see if they were right or wrong before they answered the next question. They didn't mind filling in the handouts, but the subjects they worked on alone they thought there was way to much clicking of the mouse. This is a teacher resource and I'm sure it would work well for a group of children, but my girls are used to completing most of the work entirely on their own. Alaina liked picking something different and the colored graphics for each topic really appealed to her.
We did notice that there were a few pages that could not be made full screen. The problem we ran into with that was that some of the words were over top of the others or ran into a box they should not have been in.
My girls did get tired of using this. I explained to them that this is a supplement and wasn't intended to be used all the time. They did say they wouldn't mind working on more topics later just not too many in a row.
There are so many things to choose from with the Educeri Subscription and will look different for every family. Make sure you stop over at the
Homeschool Review Crew Blog
to read other reviews.