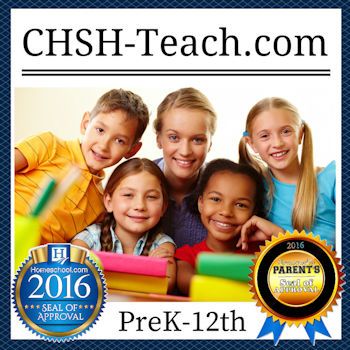 Over the past 20 years of homeschooling there have been times I have looked and looked for just the right thing to use, an additional worksheet, unit study, notebooking page, or a book list. Now finding those additional items for school is so easy with having access to

CHSH Download Club

from

CHSH-Teach.com

.
The Christian Homeschool Hub offers over 50,000 downloadable pages and educational material for grades PreK-12. It is free to be a member and you will have access to all the freebies or you can subscribe to all the content for $25 a year. They are constantly adding new items to the Hub so the best option is a one-time fee of $99. If you have several kids in your homeschool or if you are just starting out you will get your money's worth. Just yesterday there were three new downloads added.
I found the best place to even begin looking at the content was in the Download Catalog. The content can be searched by topic, category, or key word in the search option, or you can look through the download catalog by subject, grade or month. There are bible related resources, foreign languages including American Sign Language, arts, music, crafts, language arts, math, science, social studies, health, electives, fun page, lapbooking, and notebooking units.
There are also calendars that can help you plan around daily events, holidays, and observances. They contain information from history people and events. You can click on each topic and add it to your own Google calendar if you don't want to use everything that is listed on the main one on the website.
We are studying American History and Government in school this year with two high school students. The first place I went to was High School American History section and I found American Government and American History Part 1 & 2. I downloaded those files along with the answer keys. Next I checked out the reading lists and literature guides and plan on using several of those in the near future. Since my girls are learning Spanish I had to check that section out too. There are charts and flashcards for the colors, months, numbers, vocabulary, phrases, games, and puzzles.
American Government contains two downloads, one for the student and one for the teacher. The course is divided into 10 units and the student file is 278 pages long and the teacher file is 111 pages. It starts with the structure & function of our government, how our government is set up, domestic and foreign affairs, our personal involvement and so much more. The appendix contains The United States Constitution, The Declaration of Independence, The Articles of Confederation, and the Bill of Rights. There are plenty of charts to give students a visual of what is being discussed and plenty of vocabulary.
American History contains four downloadable files. Part 1 & Part 2 plus the teacher guide with answer key for each. Part 1 is 489 pages and covers Before the New Nation to 1940. Part II is 443 pages and covers 1924 to Present. There are a lot of maps, pictures, and vocabulary words throughout both parts. At the end of each unit there are practice questions and charts to be filled in. The appendix contains The Mayflower Compact, The United States Constitution, The Declaration of Independence, The Articles of Confederation, The Bill of Rights, and The Presidents of the United States.
We study history together in our homeschool, so I been using American History & American Government with all three of my girls. I downloaded the PDF files on my iPad mini and only printed the pages that needed written on. Although we already have a curriculum for American History this could very easily be used completely on its own. American Government is also very in depth and we are using it as a stand alone curriculum.
When I started writing my review of CHSH-Teach.com I found something else my 11 year old daughter has been asking for. Her Sunday School teacher had given her a journal that has pages to use for note taking during church. She only has a couple left and wanted me to find her a new one. Guess what? I found four different pages to download that we can print and put in a binder.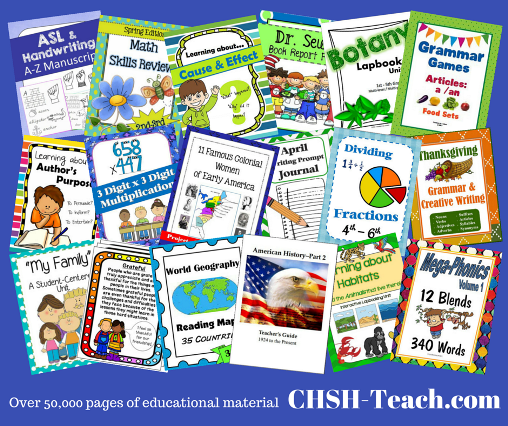 I anticipate using so many things from the CHSH Download Club. I'm going to read other reviews from SchoolHouse Review Crew members to see what they found to use in their homeschools.
Social Media
CHSH-Teach.com
CHSH Download Club
Facebook Group
Facebook Page
Twitter
Pinterest
Google+ Group
Google Business Page
Link-In
Tumblr