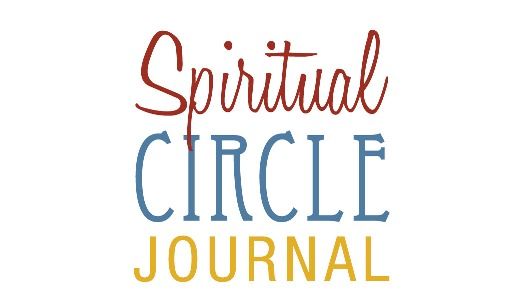 When my kids were very young I had them start writing in a journal. If they weren't much into writing I would have them write a few words and draw a picture. A couple of my kids love to write and draw in their journals and a couple of my kids hate writing in one. Alaina is one of them that doesn't care to write in her journal every day. When I first saw that

Spiritual Circle Journal

was offering the Crew the

Spiritual Circle Journal for Kids & Teens

to review I thought Alaina might like it because it would help her know what to write about.
This journal is a little different from a regular journal. This is a spiritual journal to teach kids how to make the most out of their daily quiet time. It is intended to help kids eight and older to examine their life and to see how God is leading them. By writing their thoughts down in the journal helps them to see that an invisible relationship with God is very visible in their lives. The fun shapes that are on every page keep the journal fun for the child.
There are 94 pages in the journal. It is printed on heavier paper than some journals which makes it great if your child likes to use colorful markers in their journal. There are three pages written to the parent/teacher/leader to instruct them how to use the journal and how to make their relationship with God visible in their own lives. There is a personal page where the child can enter facts about themselves and some of their favorite things in their life right now. There are sixty-five pages with different shapes to journal the thoughts for the day. There is also sixteen pages at the end of the journal where the child can journal about the lessons they have learned while using their Spiritual Circle Journal, write their favorite Bible verses, Bible characters or how they have seen God in the details of their lives.
On each journal page there are nine fun shapes that make journaling fun. Each shape should be used for the same thing each time it is written in. For example the book shape is for verses from songs, the bible, or from any where that you currently like or has been speaking to you. The purse is used to write in things you are praying for, the shoe is for action in the child's life, and the heart is for confessing wrongs they have committed. The pages are printed in black ink and Alaina loves to color the shapes as she is filling them in. The main page has the title for each shape written on it, but the journaling pages just have initials on each shape. There is also a page filled in that was written by an eleven year old that can be used as a reference if she couldn't think of what type of thing to write where.
Alaina is eleven and she has really enjoyed using this journal for kids. She has taken a couple of days to fill in each journal page because she spends time making each one look the way she wants it to. It has been easy for her to write a little every day because she knows what type of things she needs to write and she knows it has to fit in the shape so it doesn't have to be very long. It took her a couple of times to remember what should be written in which shape, so she would reference the front page to double check.
I love how much this journal teaches, but is still very simple. It really makes bible journaling easy for kids of all ages. Alaina already has her own quiet time in the morning reading her bible and praying and adding this spiritual journal has not added a lot of extra time, but it is helping her to see God's hand in her life.