I think it is important for my kids to have nice penmanship. Mine isn't that good unless I really try and I can actually write better with an icing bag than with pen and paper. I want my girls to develope legible handwriting, and the best way to do that is through copy work. I recently recieved

Men of Honor and Women of Grace

from

Laurelwood Books

that uses scripture for copy work to use with Amber.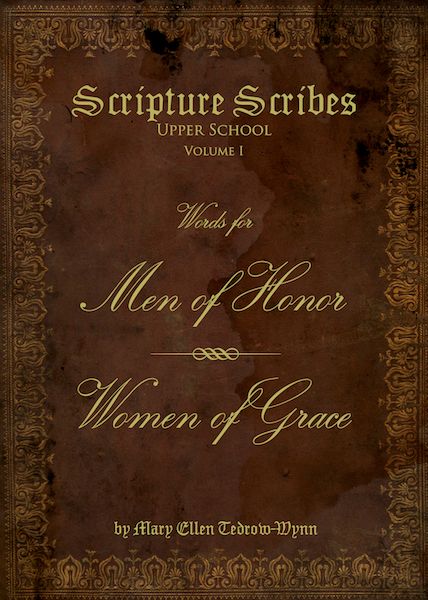 I want to start off by saying this book is beautiful, we all love the look and feel of the cover. Men of Honor Women of Grace is divided into 22 lessons covering a different character trait per lesson. Each trait is introduced with the question "What is...?" then the question is answered by giving the dictionary definition and the biblical definition. Then there are verses of scripture about that trait that can be traced and/or copied. It is recommended to read and discuss the definitions, trace and copy the quotes and verses, write out the definitions, research one of the quotes, write a report about one of the traits, and keep a notebook about how these of the character traits are part of the students lives or how they can improve in that area. Some of the character traits are joy, peace, humility, and truth to just name a few. On each page the scripture or quote is beautifully printed inside of a box. Directly underneath each box the verse is repeated to allow the student to trace the words and there are blank lines where the student can just write the quote. Part way through the book there are charts that show the development of the scriptures, and in the back of the book there is a little bit about the history of copying scriptures.
Men of Honor Women of Grace is part of the Scriputer Scribes series. There are currently four titles available for grades K-3, 4-6, and 7-12 with more coming soon. They each use scripture to copy and practice the students penmanship. They are each $19.95 and if you use the discount code: blogger121 by August 15, 2016 you will receive 20% off.
I am having Amber (age 15) use this Scripture Scribes. She needs to work on her penmanship and I love that she is practicing using character trait verses and quotes. I think the size of the font is perfect for age and is very pretty without being to fancy. The Development of Scriptures is a great chart to have. Sure we can look up who wrote each book, when, and in what language but it is very nice having it in all in one place. Amber likes using this book because it only takes a few minutes a day. She also likes the variety of quotes that were chosen for this book.
Laurelwood Books offers a variety of homeschool materials. The Review Crew received several different products. Some members received other titles in the Scripture Scribe series, State the Facts, Patriotic Penmanship, and Latin products. Make sure you head over to the Crew blog to read those reviews.
Social Media
Laurelwood Books
Scripture Scribes
Men of Honor Women of Grace
Facebook
Discount Code: blogger121 good until August 15, 2016.