Two of my five kids are very artistic. All of my girls like to draw, but Morgan and Alaina love anything artsy. Alaina was thrilled when she heard we were getting the
Entire Level II
from
ArtAchieve
to review.
ArtAchieve is online art instruction that teaches children drawing and painting. The artwork that is created is inspired from around the world and is recommended for students and adults of all ages. The Entire Level II has 14 lessons that can be purchased individually or as a complete set. Each lesson is $5.00 or all 14 can be purchased for $53 which comes out to $3.78 a lesson. Once you make your purchase you have access to the files for one year.
Each lesson has a video version and a PowerPoint version from John Hofland. There are also printouts for each project that include warm up exercises and the actual project. The PowerPoint presentations contain 59 slides and the video versions last about 25 minutes. Not only do these lessons teach the student to create artwork from around the world, but they also teach them a little about their origin through Social Studies, Science, and also Language Arts.
John Hofand and his wife homeschooled their children and they have traveled around the world and each lesson is an image they collected on their travels. His drawing lessons will create success. The student's artwork will look like it should with their own designs by utilizing their own artistic liberties.
Lesson 5: The Ukrainian Cat is one of Alaina's favorite lessons. In this lesson she watched the video segment first. At the beginning of the video John tells and shows the students exactly what they need for the lesson including any printouts. He also leads the students in a hand warm up and instructs the students to relax and listen to relaxing music. There are rules for drawing and then John tells the students how he draws the picture as he is drawing. At the end of the video the student should reflect on their artwork they created. The PowerPoint presentation is the same as the video except the words are included in a text box next to the section that was just drawn.
John is very encouraging to the students. He tells them there is no right or wrong way to draw and your artwork will not look just like anyone else's and they will all be unique. He even tells them ways to use lines they don't like later with other details.
Alaina has really enjoyed using these art lessons. When I asked her why she said they are easy drawing tutorials. She also said she likes that he showed her different examples of the project and she knew that her picture would not look exactly like any of them. She also liked watching the video version instead of the PowerPoint because she could actually see how the picture was drawn. When I started taking pictures of her artwork she looked a little worried and she asked me how long she had access to the lessons. When I told her she still had access to them she said she was glad because she wanted to draw them all.
This is a great art program for any age. John is so encouraging to the students and he makes sure they understand that the artwork they produce is an original even if they copy a picture.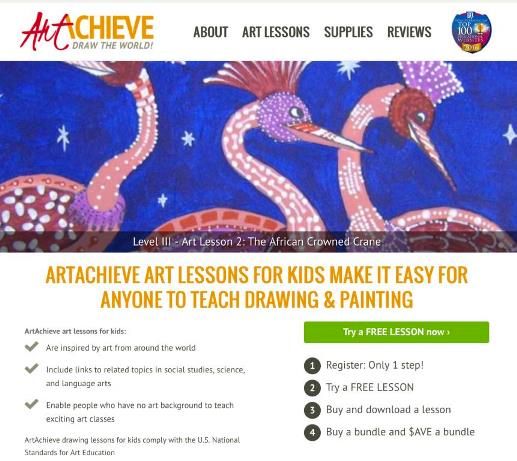 Social Media