We love learning about people, what their ambitions are and what they actually accomplish in their lives. We just spent four weeks learning about the composer Paganini in the

Music Appreciation Book 1: for the Elementary Grades

from

Zeezok Publishing LLC

.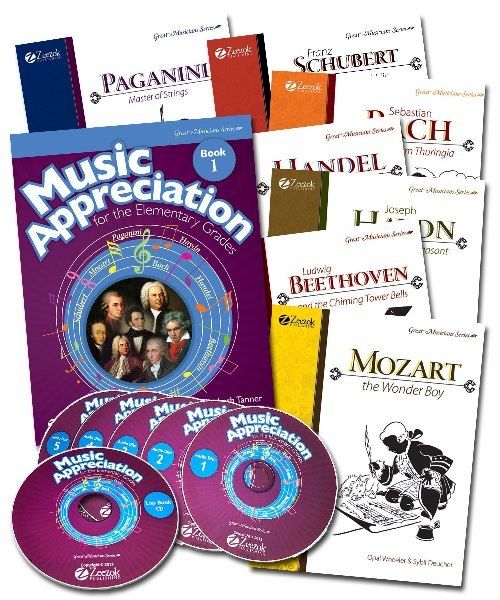 The Music Appreciation Book 1 covers seven composers from their childhood to their adult lives. It consists of a student activity book, seven composer biographies, music CDs, and a lapbook CD. The composers can be studied in any order you choose. Since Alaina is my only elementary student left at home I asked her who she would like to start with. She decided on Paganini because she didn't know anything about him and she likes his name.
We started with the Nicolo Paganini section in the activity book. Alaina used two book marks to keep her spot. One she kept on the weekly lesson outline and the other she kept on the page she was working on. She loves when her workbooks have an outline of what she needs to do. She is my checklist kid and she draws a little picture next to each assignment as she completes it. The activity book pages are very pleasing to the eye and there are 33 pages that cover Paganini immediately followed by a quiz and the answers to the questions. There are plenty of colored pictures, photos, maps, and more. A small icon is at the top of each section indicating the different activities. There are character qualities, comprehension questions, tidbits of interest, when to read, when to listen to the CD and when to complete a lapbook project. Since Paganini was born in Genoa, Italy there is a map of Italy marked with all the places he traveled. A hands-on project included an Italian recipe for spaghetti soup that Nicolo may have eaten after a long day of practicing. Of course we had to have it for dinner and everyone liked it and we wrote in down in our everyday cookbook.
I'll admit I was interested in learning about Paganini too, so I decided I would read the first chapter of the biography out loud to Alaina and then let her read the rest of the book. My husband was home at the time and of course the other girls wanted to listen. Well, we were all enjoying the book and I read several chapters at once and I ended up reading the whole book out loud in just a couple of days. Alaina went back and read it herself as she worked on her study. The biography was so interesting, it reads like a story and is full of information. As a young child Paganini heard a "sick" note that his father played on the mandolin. His father decided right then that it was time for Paganini to start studying music. He had such dedication and determination growing up by learning to play to the best of his abilities starting on the mandolin and eventually playing the violin in front of friends, congregations, audiences, even royalty on some very rare instruments. Despite his unhappy childhood he went on to give his first concert at age 11 and later wrote compositions that were so hard accomplished musicians struggled to play them. There is also sheet music for Rondo and Allegro for the violin with piano accompaniment. Amber and Delaney can both play the piano part of the song, but Delaney has only been playing the violin for a little while and can't play the violin part yet.
We listened to the Paganini tracks from the Music Appreciation Music Discs right away and then listened to the rest of the CD. There are five CDs that include music from all seven composers. We have had one of the CDs in our CD player ever since we got them in the mail and then Alaina went back and listened to the Paganini tracks during her study when indicated.
The lapbook CD contains the templates and a picture of the completed lapbook pages for all seven composers. I used the menu to go straight to the Paganini lapbook and printed just the pages we needed right away. The pictures are in color, but Alaina loves to draw and color so she wanted them printed in black ink only so she could color them herself. The activities included a Nicolo Paganini Character Trait Wheel, instruments he played, special things about a violin, definitions, a few Italian words, and more.
Alaina is 11 and she has been using this on her own. She is loving this study and is constantly telling us about things she is learning. Even my older girls who have taken classical piano lesson for years learned a lot about Nicolo Paganini. Alaina has decided to start on Joseph Haydn next because she thinks he has the second best name of the classical composers that are included in this music appreciation study.
The Music Appreciation Book 1 would make a great addition to any homeschool or for any child that wants to study composers. There are enough variety of activities for just about any learning style.
Twitter @ZeezokPub