I have seen several of my friends talking about
Science Shepherd
on social media, but I had never had a chance to look at it. When
Introductory Science
came up to review I showed Alaina and she was excited to try it.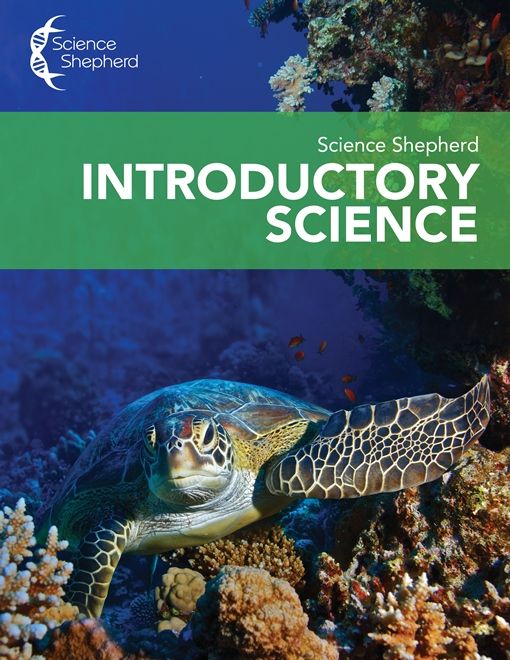 Introductory Science is recommended for ages 6-11. There are two workbook choices to choses from, Level A and Level B. The science course is divided into 35 weeks and covers Earth Science, Life Science, and Physical Science. There is a short video for each lesson including activities, then there are worksheets in the workbook. The Level A workbook is for younger students ages 6-8 and Level B is recommended for children ages 9-11.
The video segments are from a guy sitting at a desk talking to us and then there are students that demonstrate what he is saying or pictures are shown while he is speaking. These students also perform the experiments and activities for the lessons. Some of the video activities show a picture and then ask a question to go along with it. There are answer choices that the students must observe, think, and predict to choose the answer. They can write their choices in the student workbook and the instructor explains the answers to them. There are so many introductory science topics covered in this program including creation, meteorology, geology, oceanography, biology, and more.
The student workbook is spiral bound with 383 pages. There are one or two pages per day and a review at the end of each week. There are short answer questions, matching, multiple choice, crossword puzzles, word searches, and activity pages to go along with the video activity. The Answer Key is a 41 page softcover book and contains all the workbook answers.
Scott Hardin, MD is a homeschool dad of six children. As his children got older he developed the Biology program for high school students, and Life Sciences for middle school that was easy to implement and allow parents to feel confident in home educating through high school. And then he decided to make a science course for younger grades.
Since Alaina is 11 we chose Level B for her to use. Being the youngest of five homeschool kids she is always so excited to get something new that is just for her. She watched the video segments from her iPad mini. I created a short cut on her home page so she could easily log on. She really liked watching the video especially when then young science students were on them. She also liked the workbook. She liked that there were different types of questions and puzzles.
Alaina is also my organized child that needs to know how much work she needs to finish for each school day and week. She was thrilled when she first opened her notebook and saw that each new worksheet is clearly labeled, so she new exactly how much she needed to do per day and for the rest of the week.
I think this program is very well done. It is very easy for Alaina to access the video and know exactly where she needs to be for the day and what worksheets she needed to complete. The variety of questions and activities are a good mix, and the supplies needed for the activities are easily attainable. Although Alaina really likes this program and she even asked if she could work on it through the summer, she did say it was pretty easy. She is an avid reader and reads above level for her age, but I think this would be better suited for ages 9-10.
Social Media
​