Alaina is always drawing, painting, coloring or doodling any chance she gets. She takes after her oldest sister because she does the same thing. Her newest art supplies are the

Kwik Stix 12 pk

from

The Pencil Grip, Inc

. She also got to try the

Pencil Grip

.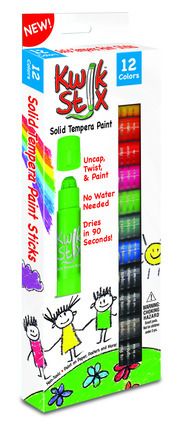 The Kwik Stix are solid tempera paint, all you do is twist off the cap and paint. Each paint stick is .35 oz and is just a little bigger than a glue stick. There is no need for water or a paint brush and it dries in 90 seconds. They are non-toxic and paint on many surfaces including paper and poster board.
I didn't tell Alaina that we were getting these paint sticks, so when they came in the mail and I told her the box was for her she was thrilled. The moment she opened the box she was painting. They are so easy to use she just grabbed some plain paper and got started. She has also used them to color pictures in her coloring book. The best part is there was no mess to clean up.
I read aloud to my family every night before bed. The girls always do something quietly while they are listening. Sometimes they color, use markers, work on a latch hook, or draw pictures. They have never painted while I was reading because it requires to much cleaning up and I have always made them sit at the table to use paints. Not any more, they can use the solid tempura paints in the living room without making any mess.
The weekend after we received our Kwik Stix Morgan came home to visit and we played a lot of games. Morgan and Alaina are always drawing or doodling, so whenever it wasn't their turn they were painting. They did a couple of challenges and made the other girls join in where they all did the same picture and then they made some that were different.
Alaina also makes a lot of cards. With Mother's Day coming up she decided to make some cards for her grandmothers. She just used cardstock and the Kwik Stix and they turned out so nice. The colors are very vibrant and do not bleed through the other side or smear after they are dry.
We also received the Pencil Grip. This is a soft rubber that fits on a pencil. There are three formed sides that fit your fingers perfectly while you are writing. This is to help people of all ages to achieve proper hand positioning on a pencil. It is also recommended by doctors, teachers, and occupational therapists.
My kids ranging from ages 11-24 love the Kwik Stix solid tempera paints. Alaina likes them so much she is keeping them on her school table, so she can use them any time. They are so easy to use any where and there is no mess involved. These would even be great for a Sunday School class, VBS, or preschools. I'm always in charge of crafts for our church VBS and I may have to plan a project using these.
Social Media