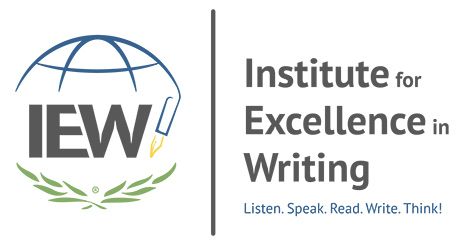 Andrew Pudewa is like a celebrity at our house. I have listened to him speak so many times at home on DVD or MP3. My kids have listened to him in the background and during some classes so much that everyone in our house recognizes his voice as soon as I press play. We recently added

Linguistic Development through Poetry Memorization

to our collection of products from

Institute for Excellence in Writing

.
Linguistic Development through Poetry Memorization is all about memorizing poetry. Well, on the surface it is about memorizing poetry but it is actually teaching children to memorize language patterns while building their vocabulary and eventually making them better writers. This poetry memorization course includes ninety-six poems and speeches divided into five levels. It is recommended for all ages and everyone should start at the beginning. It comes with:
Teacher's Manual~ This is a two hundred page spiral bound book. The introduction has so much information on why it is important to memorize plus how to use the book. All the poems are included with teacher notes in the page margins. The first four levels include poems and level five offer speeches. There are also lesson enhancements included in the appendix.
Student e-book~ This is a free 177 page download that can be printed for all of the students in your home. IEW actually sent us the

spiral bound copy of the Student Book

. All the poems in level one include a cute little picture to go with the poem. The first part of level two does also and then they gradually decrease as the book progresses. The speeches in level five do not have any pictures. After each level there is a blank page for the student to choose their own poem and there is also a Certificate of Completion to reward the student.
Five CDs that include a recitation of all the poems and speeches. They come in a beautiful brown case embossed with IEW. You also receive access to the files as MP3 downloads from the website if you wish to put them on a mobile device.
Seven audio MP3s:

Nurturing Competent Communicators
Mastery Learning, Ability Development, and Individualized Education
Ten Thousand Times and Then Begins Understanding
On Listening
On Speaking
On Reading
On Writing

Bonus DVD: Nurturing Competent Communicators ~ This is the seminar given by Andrew Pudewa to a group in 2015. Andrew talks about why there are so many people that cannot write properly and how we can make writing easier for our children through memorization and reading aloud to them.
This is a very easy program to implement. You can actually pick up the book and get started right away. I read the introduction and watched the DVD Nurturing Competent Communicators before we began. It was very encouraging to understand why memorizing can be beneficial to our children. It made me feel like we weren't just memorizing something cute and then forget it soon afterward. I have always had my kids memorize scripture but I have never understood the importance of memorizing other works until now.
I gave each of my girls a copy of the poem and the we listened to Andrew Pudewa recite the poem on the audio CD as we read along. We would also repeat the poems at random times throughout the day. The first few poems are short and were very easy to memorize quickly. Once we learned one poem we added the next and would recite them together. The poems advance in length as you get further into the book and they take longer to memorize. Right now my girls (ages 11, 13 & 15) are all staying together, but that may change once they get longer. My girls really like the check off sheets for each level. They could mark off the day they have recited all of the poems they have learned. I also think the pictures in the beginning poems are great for kids to have a visual of the poem in their head and help to recall the stanzas.
After getting started using this I realized that my oldest child would do this with his memory work for youth camp. Each grade level had a list of 14 memory verses, 16 challenge verses and 8 longer bonus verses that would give their tribe points if they were memorized. Since most of the kids attend every year they could get the list for the next year as soon as camp was over. Michael would start working on his list as soon as he got home. He would start with the first one and as soon as he memorized that one he would add the next one. He would recite the ones he had memorized every night before bed and then work on the new one. The first day of camp he would find a camp instructor or helper and recite all memory, challenge, and bonus verses at one time. The higher the grade level the longer the verses they had. This has helped him tremendously with his oral communication. His college speech classmates are in awe of how well he can give a speech on any topic without using his notes to help him.
I really wish I had known the importance of memorizing poetry years ago. My oldest daughter had trouble memorizing scripture like her brother but she probably could have memorized some cute poems easier and could have eventually worked up to memorizing longer scripture passages.
We are having a lot of fun memorizing together and the poems selected are all really good. My girls have read ahead because they like them so much. They have also read some of the speeches to see if each other could guess who gave it. They are all wondering if they'll ever be able to memorize the longer speeches, I'm sure they will be able to when we get there.

If you have never heard Andrew Pudewa speak you are missing out. He offers such valuable information on teaching our children and he makes it all seem so simple.