Alaina loves when she gets something brand new just for her to use for school. Being the youngest of five homeschooled kids she uses a lot of hand-me-downs and a lot of our review items her sisters use too. Recently she has been enjoying
Rainforest Journey Grade 5
from
EdTechLens
.
If you are thinking Rainforest Journey is about the rainforest you are correct. It is a life sciences online curriculum for grades K-5. The 34 lessons for each grade cover the same topics to make it easy to have all of your children learning together but the older elementary grades are more complex.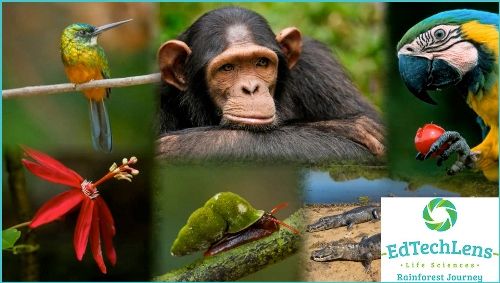 There are five Units in Rainforest Journey. Each Unit is divided into chapters with several lessons each. They also contain vocabulary words, illustrations, and assessments.
Unit 1 The Big Picture of the Rainforest ~ This section has two chapters: Looking Inside the Rainforest and Water and Light.
Unit 2 Adapt or Die~Three chapters cover: Structural Adaptions, Behavioral Adaptions, and Genetics.
Unit 3 Animals~ Has five chapters covering: Invertebrates, Amphibians & Fish, Reptiles, Birds, and Mammals.
Unit 4 Plants and Fungi~ Plants and Fungi are the two chapters in this unit.
Unit 5 Ecosystems~ Ecosystems is the only chapter in this final unit.
Primary Sources~ This section contains Expert Interviews, Primary Source Videos, and a real Trip Journal.
Rainforest Journey has real pictures and videos of the rainforest. Under each one is the text that can be read or you can have it read to you. There are also real noises that you would hear if you were actually there. Each lesson can be completely viewed online or you have access to the PDF if you would like to save any lessons or print them out. At the bottom of the page there are two buttons. One will take you back to the previous lesson and the other will take you to the next lesson. There is a page of vocabulary words for each Unit. The Assessments include sorting pictures into categories, essay questions, and multiple choice. These can be answered in the screen or there is a paper version if your child doesn't like answering questions on the computer.


Each student has their own login and the teacher has a login. When I am logged in I have access to all of the lesson in case I want to see what is going on in the lesson. I can change passwords for my students and I have the option of allowing all the lessons to be unlocked at once or for them to unlock after the previous one is completed. I can also view her progress and her quiz results.
Alaina used Grade 5 of the Rainforest Journey. She is learning so much in this course and she is always excited to share what was covered in the lesson with the rest of the family as soon as she was finished. Alaina and I both love that you can see her progress. By the picture above you can see the green is what she had completed and the pink is what she still had left when we took this picture. Early on she logged into my computer to complete a lesson. It had saved my password for EdTechLens and she didn't realize it and worked on her lessons. She didn't know it had happened until she got back on her iPad and she said it shows I didn't do this lesson, but I did it on the computer. She didn't want to go back and redo the lesson, so it is still showing up pink. She likes seeing where she is.
I really like this science class. I could take my iPad mini to the couch and snuggle with my favorite blanket to do my science. My favorite part are the quizzes. I think they are fun. there was one question where it asked me what animals need sun and which ones don't. I got to drag the animals into the right box. Sometimes I had the lady read the page to me and other times I just read it myself. Sometimes there are videos and other times there are just pictures in the lesson. My favorite lesson was the one on camouflage animals.
~Alaina, age 11
Rainforest Journey is the first course from EdTechLens. I think they have done a wonderful job with this program. The bright vivid colors in the pictures and the sounds of actual noises in the rainforest really make this program come alive.
Social Media
Twitter
Facebook
Pinterest
Google+
LinkedIn