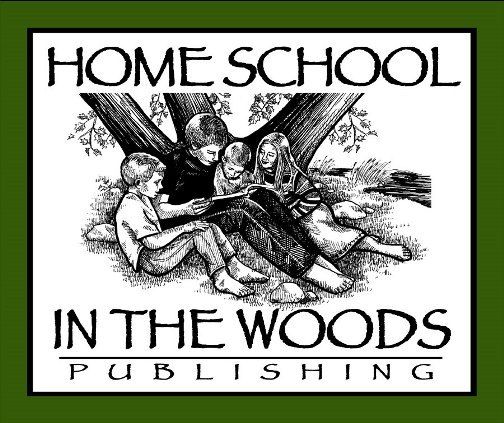 This time of year there is so much talk about the Presidential debates and the elections, and it makes the perfect time to study about it with my girls. We just finished the
HISTORY Through the Ages Hands-on History Lap-Pak: U.S. Elections
from
Home School in the Woods
.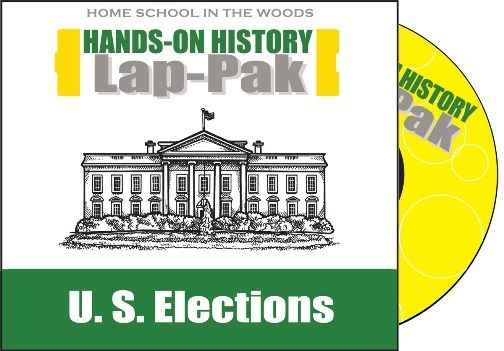 This U.S. Elections Lap-Pak is available on a CD or as a download. It will introduce children in grades 3-8 to the Presidential elections. It includes 21 projects that cover the presidential election process to create a lapbook or notebook. A list of additional reading material is also included.
We received the download version from Home School in the Woods. Once the download is complete you click on start and that will take you to the main menu . There are instructions on printing and creating a lapbook or a notebook. The step-by-step instructions for each project and the lapbook assembly are very easy to follow and include colored photos. The reading text can be printed in a booklet to store in the lap book or full-size to include in a binder. There is also an audio that will read the text to the student while they work on their projects. The directions are very specific and indicate any special instructions like if the page needs to be printed on card stock or colored paper. The supplies needed are very minimal and include a file folder, scissors, glue, tape, packing tape, colored pencils, and a piece of sticky velcro.
I decided to work on this together with all three of my girls ages 11, 13, & 14. All three of them used to love to create lapbooks together, but Amber decided she is to big to spend so much time cutting and gluing. She still joined us while I read the text booklet out loud and she did more reading on her own. Once we were finished she wrote a paper on the U.S. Elections. Delaney and Alaina completed their lapbooks together. We have studied about the election process before, but Alaina didn't remember much about it and we all learned from this unit study.
I printed each project on plain white paper because Alaina loves to color and she wanted to color all of hers. The cover image we printed on card stock as indicated in the directions. I read the text booklet out loud and then the girls completed each project. We worked on this a little every school day and covered a lot of information. My girls learned about the branches of government, term limits, platforms, stump speaking, suffrage, the electoral college and so much more. Alaina and Delaney both liked the "Vocabinet" project where they added definitions inside their presidential cabinet. They also like the National Convention project because they got to add glitter to celebrate a win.
I have used the
Project Passport World History: The Middle Ages
and
Hands-On History Activity-Pak about Composers
from Home School in the Woods with my kids and we loved both of them, so I knew we would enjoy this Lap-Pak on U.S. Elections. If you have never completed a lapbook with your kids this is a great place to start. It was very user friendly and creates a beautiful book your kids will want to keep. This is a great hands on study of U.S. History elections to use with your kids while you are following the election yourself.