Faith Builders Bible
recently from
Zonderkidz
to use every day.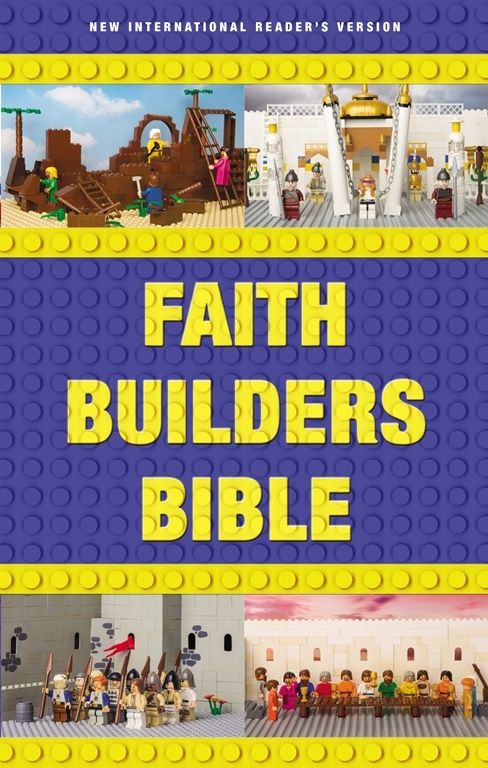 The Faith Builders Bible is written in the NIrV translation. This 8 1/2" X 5 1/2" hardbound bible has a brick building theme throughout with a presentation page. A dictionary and a list of 92
Great Bible Stories
is in the back of the book.
The building brick theme makes this bible bright and colorful. I'm sure kids of all ages will be very attracted to it. There are 24 glossy pages of some best loved bible stories with color photos of building blocks depicting the event. A short paragraph describing the event and the bible reference of where the complete story can be found is included as well as a bible verse to go along with it.
The New International Reader's Version is based off the NIV but it is written at about a third grade reading level, so it is easier to read and understand. In this translation some of the longer words and sentences have been shortened to make them easier to understand for children and people new to the bible. Sometimes things in the bible have two different names, but in the NIrV they are only called by one of them. Where the bible uses quotes from other books of the bible the reference to where it is found has been added.
Having girls at home our Legos are Lego Friends. She set up some of the bible stories using girls. Here she has them at the Last Supper.
Alaina has been reading this bible for her devotions, she thinks it is very easy to read. She loves the colorful pictures of the building bricks, but thinks there should be more of them. She also loves the page with the Old and New Testemant books listed. They are divided into sections with different color bricks for different types of books. Like the books of the law are green, history is orange and brown, poetry is red and pink and so on. This would make a cute poster to hang in our school room or a Sunday school room.
I have read through some of the bible also and the colorful bible story pages. The translation flows well and is easy to read. I love that the bible quotes found in the bible have their references right on the page with the quote. The only thing I have a problem with this bible is one of the colorful pages has the ABCs of salvation. It says that you just need to follow the ABCs to become a Christian. They say A stands for Admit you have sinned, B is for belief in Christ, and C is for Confess your faith in Jesus. They fail to indicate that you need to repent and be baptised (Acts 2:38) in order to be saved.
This bible is made for kids and it is very cute. I can see both boys and girls liking this bible just for it's theme.