We love to travel, and visit new places. It's pretty easy for us to see the United States because we have family on the east and west coasts and we are almost right in the middle. We also like to travel through stories we read or listen to. Lately we have been traveling with missionaries in

The Brinkman Adventures

.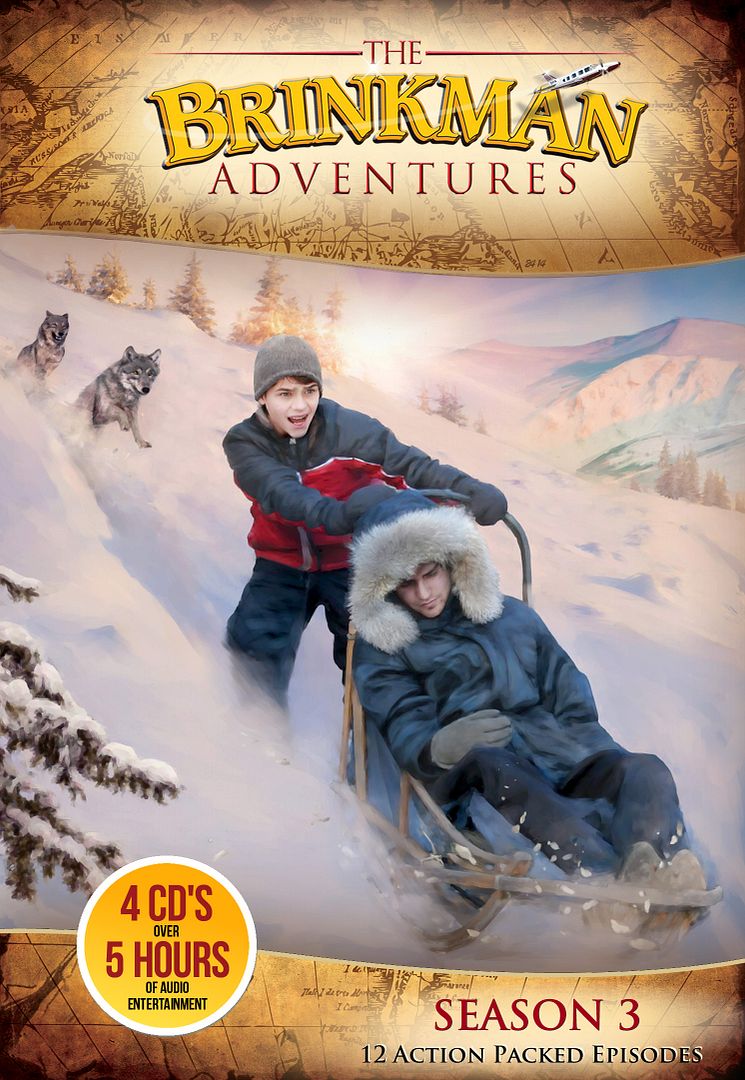 The Brinkman Adventures: Season 3

is the newest audio drama of a real life missionary family. The CD set comes with four CDs for over five hours of entertainment. Season 3 contains 12 episodes and is available as a CD set for $27.99 or the download can be purchased for $17.99.

The Provider is Episode 9 from season 1, you can listen to the entire

episode free

to hear how they trust in God to provide for them.
The Brinkmans are a real missionary family. The children on the audio stories are the real Brinkman children, but they use different names. The mom and dad didn't want to be in the stories, so the mom and dad in the recordings are not the real Brinkman parents. Some of the stories that are included in the series are from their own missionary journeys, but some of them are stories they have heard from other missionary families.
If you head over to their website you can read about the
real missionary stories
that the adventures are based on.
There are also pictures and videos from some of them, as well as b
ehind the scenes videos that will give you a glimpse of what happens during a real recording.
Printable coloring
pictures
are also available for episodes 1-6 of season 1, hopefully they will continue to add them for the other adventures.
In Season 3 the Brinkmans travel the globe meeting other missionaries where ever they go. They

are tested to their limits and are forced to face their fears as they discover God's truths. While getting ready for a wedding, business takes over, chores are forgotten, and cars are crashed. During a birthday hike the dad falls into a glacier, a young guy falls into a creek, flares are shot, and they are rescued by a helicopter. Another time the Brinkman's toys and bikes that were left in the yard were mysteriously moved the next morning. The items were found all over the yard, the tree, and the roof.
Disc 1
God's Mule

Mountain Mover

The Silent Ambassador
Translating Trouble

Man-Up

Acorns & Oaks
A Saint's Story, part 1

A Saint's Story, part 2

Untouched
Busy Bees and a Bullhorn

Missionary Tourist, part 1

Missionary Tourist, part 2
All three of the girls and I have been listening to the Brinkman Adventures around the house. We listen while we clean, do laundry, dishes, or while we play quiet games We love listening to adventure stories and I am so thankful that we don't have to worry about inappropriate language during these episodes. These are adventure stories so there is an element of suspense, but it wasn't anything that was inappropriate. My girls really like learning about other cultures and it is fun getting a glimpse at how missionaries in other countries live and trust in God.
Social Media
The Brinkman Adventures
Season 3
Facebook