Amber loves the Mind Benders from

The Critical Thinking Co.

She is using one of the harder ones and loves to challenge me to see who can get them done first. Even when her older brother was home she made him work some with her. When I told her we could get

Practical Critical Thinking

to review she could hardly wait for it to get here.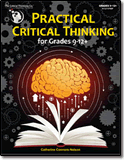 We received the

Practical Critical Thinking

book for Grades 9-12 and the

Teacher's Manual

to review. This softcover book has 378 pages. It is divided into 4 units with 8 chapters. This book uses novelty and prediction throughout the book to grab the attention of the students and to make them active participants. The Teacher's Manual is a 240 page softcover book that contains the answers and reproducible activities.
Unit 1 Becoming a Critical Thinker~ This unit goes over what critical thinking is, why we should care about it, what makes a critical thinker, and more. There are also puzzles, mind benders, and games.
Unit 2 Adding to My Critical Thinking Toolbox~ Facts, opinions, evidence, arguments, vagueness, and more are included in this unit.
Unit 3 Critical Thinking and Arguments~ Learning about arguments and fallacies are covered in this section.
Unit 4 Applying My Critical Thinking~ The last unit covers advertising and evidence. The pros and cons, techniques, and back stories of advertising and testimony, direct & circumstantial evidence.
This book is written directly to the student. It contains games, puzzles, question, thought questions, drawing boxes, charts, mind benders, and more. Each chapter is made up of the lessons, a chapter summary with important takeaways, individual & group activities, and discussions. Some later chapters use online resources. This links are available from The Critical Thinking webpage to make access easier.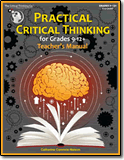 Amber is 14 and she has been using this book. She was so excited to get started and it is her favorite school book, this is the first thing she works on for her school day. We have only had it a few weeks and she is already in chapter 4. She hasn't had any problems understanding what she is supposed to do each day and she has shared a lot of the stories and pictures with the rest of the family because they are topics that really interest her. This book is helping her to become a better thinker.
Catherine Connors-Nelson is a philosophy instructor who wants everyone to become independent thinkers, striving to be fair and balanced in their thinking. She has also published Smarty Pants Puzzles Level 1 with Critical Thinking.
The Critical Thinking Co. started in 1958, and they offer over 200 products in reading, writing, math, science, and history. Their products are fun for the students, but they also learn to apply their critical thinking skills throughout their lives.
Social Media
Critical Thinking
Practical Critical Thinking
Teacher's Manual
Facebook
Google +
Pinterest
Twitter
We have loved everything we have used from The Critical Thinking Co. and Practical Critical Thinking did not disappoint. Members of the Schoolhouse Review Crew reviewed Fun-Time Phonics!, Surfing the Net: Science, The Basics of Critical Thinking, and U.S. History Detective, Book 1. You can read those reviews by clicking the banner below.