I like to study the bible with my kids in chronological order, so they can get the big picture of history. We just started using Old Testament 1: Creation to Jacob from

GrapeVine Studies

that is a chronological study of the characters and events. We received the

Old Testament 1: Level 3 Creation to Jacob

and

Old Testament: Level 4 Creation to Jacob

.
Grapevine Studies offers several bibles studies to teach believers God's word and how to become disciples of it. They teach the Bible timeline first and once this framework is understood then they teach bible passages, events, and characters. It works like a puzzle.You complete the outside pieces first and then move to the middle to get all the details. Finally you will have the complete Bible picture.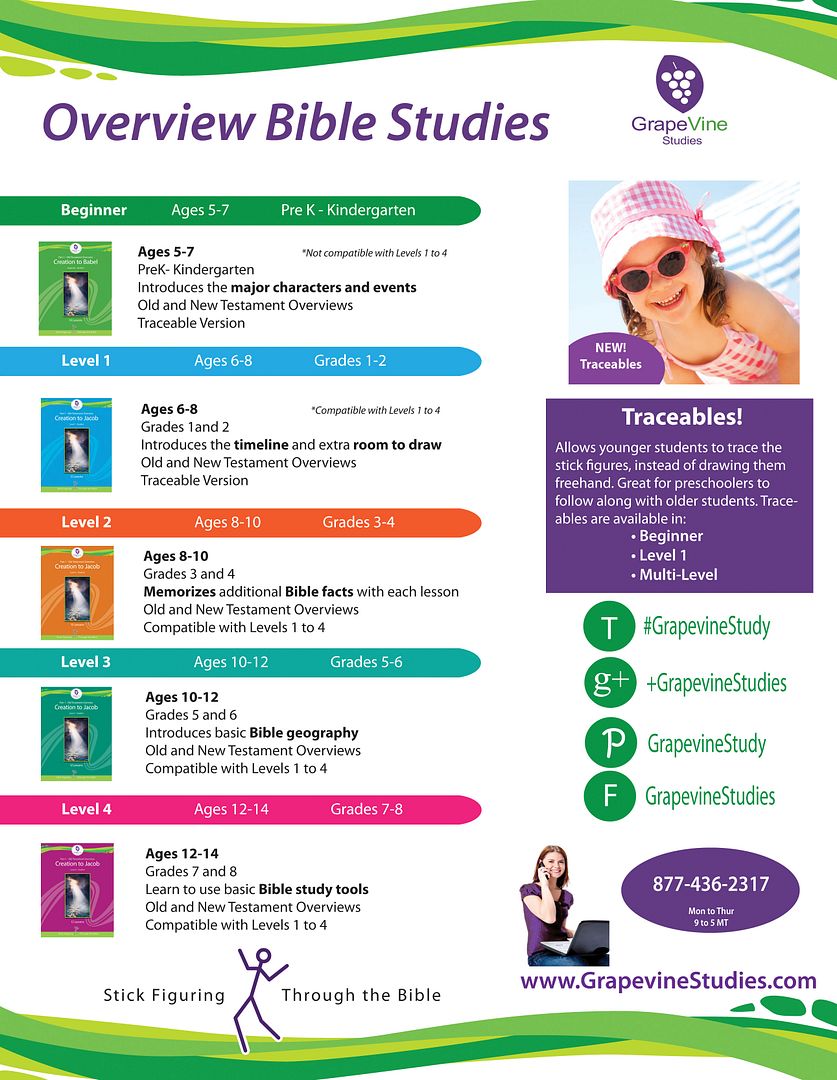 This course teaches the kids to draw stick figures through the Bible. They draw shapes, people, eyes, and other items to represent God, people, things, and events from the Bible. Old Testament 1 is divided into 12 chapters and teaches Creation to Jacob. We received three downloads for our Old Testament 1. A Teacher eBook, and two student eBooks Level 3 & Level 4. I have been using them with all three of my children. The supplies needed to complete this course are pretty minimal and we already had them all. Each student needs a copy of their appropriate eBook, the teacher needs access to a copy of that eBook, a Bible, and colored pencils. Level 4 also needs a Topical Bible, a Bible dictionary, and a concordance.
The teachers manual is 98 pages long and offers a lot of information. It has a section on teaching multiple levels, a daily and weekly schedule, how to teach the lesson, teaching the timeline, and reviews for the timeline, lessons, a student review, section review and a final review. The lesson pages show you exactly what the student should have drawn on their page, key points, Bible verses, and memory verses. The answers for the questions and reviews are also included.
The student eBook for Level 3 contains 67 pages. The timeline pages look like an open scroll that the student can draw their stick figures in. In the lessons there are drawing boxes, questions to answer, and places to write or recite memory work.
The student eBook for Level 4 is 65 pages long. It is set up like Level 3, but it adds in the use of a Topical Bible, the Bible dictionary, and a Bible concordance. There is an introduction for all three of these explaining what they are and then there are exercises to show the student how to use them. A Quest page is also included in Level 4. These pages has the student use the Topical Bible, the Bible dictionary, and the concordance together to complete the answers.
I had Amber and Delaney use Level 4 and Alaina used Level 3. They thought it was fun to draw all the stick figures and it gives a great over view of Creation to Jacob that is easy for children to remember. The lessons are fairly simple for the student to complete and only takes a few minutes per day. The Teacher's ebook is very easy to understand and implement.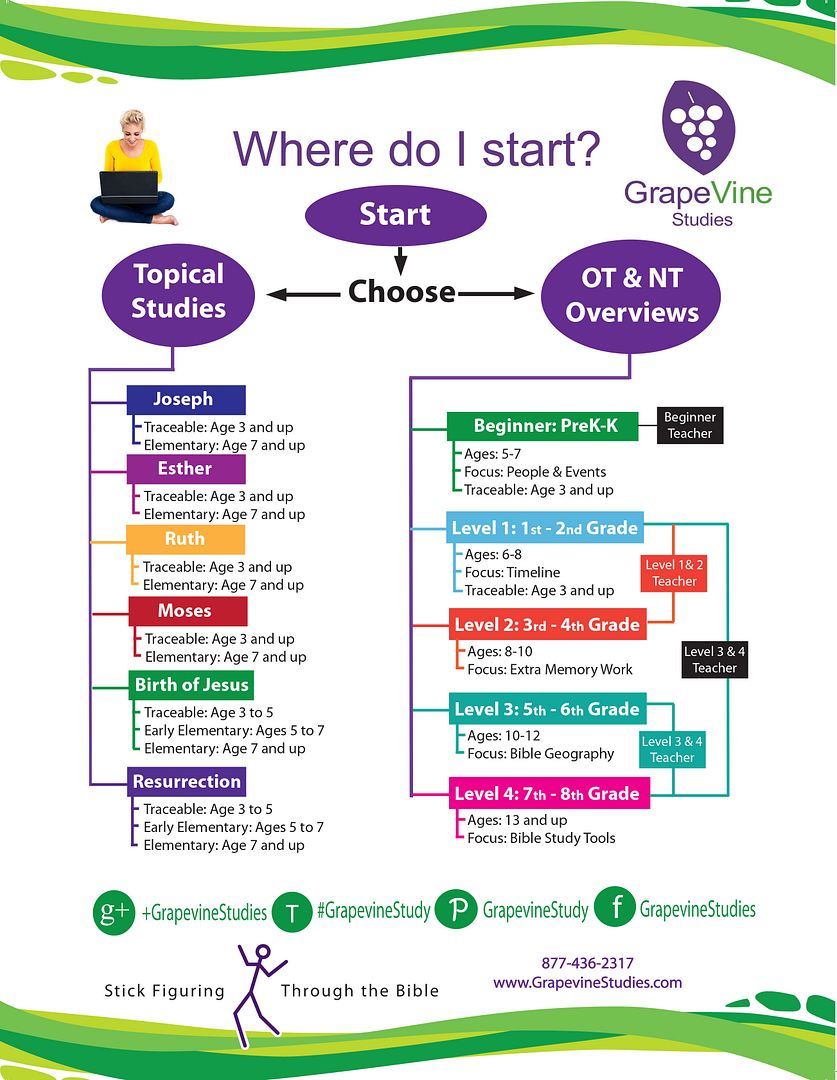 Here is a great chart to help you determine where to start your children.
The Old Testament 1: Creation to Jacob also comes in lower levels for younger children. This is a great way to teach children at a young age to Stick Figure Through the Bible. Members of the Homeschool Crew reviewed other levels from GrapeVine Studies and you can click on the banner below to read those reviews.
Social Media
Grapevine Studies
Facebook
Twitter
Pinterest
Google +
Periscope: @Grapevine