We have been homeschooling for a long time and there are a few companies that we like to use over and over.

Progeny Press

is one of those companies that my girls are always eager to use. This time Alaina was excited to review the

Stone Fox Study Guide

. Being the youngest of five homeschooled kids, she loves getting something new that no one else has used before.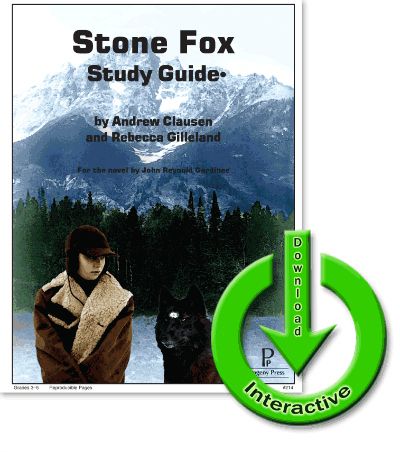 Progeny Press offers literature study guides from a Christian perspective. They offer study guides for lower elementary, upper elementary, middle school, and high school level, teacher resources, and audio books. We received Stone Fox from the upper elementary category and it is available as an interactive download for $17.99.
Stone Fox is about a young boy named Willy. He lives with his grandfather who owes the state of Wyoming for back taxes. The state threatens to take the farm and grandfather has lost his will to live. Willy wants to help his grandfather and thinks he can win money to help him by entering the National Dog Sled Races. An Indian named Stone Fox also enters the race and he has never lost. Does Willy beat the Indian? Can he raise the money to save his grandfathers farm?
The interactive study guide for Stone Fox is sixty pages long. The answer key comes with the study guide, but it is in it's own file. In the guide there is information to the instructor on how to use the guide, a synopsis of the book, information about the author, background information on Jackson, WY and Indians. There is also ideas for pre-reading activities and a map. There are ten chapters in the book Stone Fox and the study guide covers two chapters in each of the five lessons. Each chapter works with vocabulary words, literature terms, bible references, and thought provoking questions. The student will probably need a good dictionary and bible to help them complete their assignments. An overview of the whole book has it's own chapter and there is also a Review Puzzle Race, a list of essay topics and projects, post-reading activities, and related resources. The interactive pdf can be opened and filled in on the computer using Adobe Acrobat 9.0+ . The students work will be saved on the computer or you may print the study guide out.
In the interactive study guide the blank spaces to type in appear blue.
We found the book Stone Fox at our local library and when I brought it home Amber informed me that we already own the book. Oops! At least I didn't buy this one twice. Alaina decided she wanted to have a physical copy of the study guide, so we printed it off and she put it in a notebook. She was so excited to have her own book and study guide that she completed it entirely on her own. Alaina is ten and she is a good reader, she read each of the chapters and answered the questions on her own. We went through the Essay and Project section together and decided on a few she wanted to do and some of the others we discussed together. Of course her favorite extra activity was learning more about the Iditarod.
Members of the Schoolhouse ReviewCrew received several different study guides for literature. You can read those reviews by clicking the banner below.
Social Media
Progeny Press
Stone Fox
Facebook
Youtube
Twitter