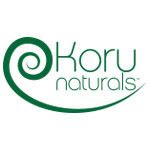 The last couple of years I have been trying to use more natural products in our household. I'm trying to eliminate the chemicals we put in our bodies or use on them. Earlier this year I was introduced to

Koru Naturals

when we

reviewed

their Emu Oil and Lip Balm. We loved our Emu Oil so much that when we were offered more products from Koru I knew we wanted to try them. This time we received

Skin Clear Creme

,

Manuka Honey & Propolis Soap

, and the

Argan Oil and Sandalwood Hair Tonic

.
Alaina loves anything that smells, and has a hand washing fetish. The very day our package arrived she immediately opened it up and wanted to start smelling. I told her to take a picture of them before she opened them and when I got my phone back there were probably 25 pictures with the products all lined up different ways. After smelling them all Alaina made everyone wash their hands with the new soap. I have no idea how many time she washed her own, but it was a lot.
Koru Naturals started bringing products from New Zealand to the U.S. in 2002. They were using the products themselves and were sharing them with their friends when they decided to start selling to other people. They offer products for your face, hair, and body for men, women, and infants.
The

Skin Clear Creme

has been around for twenty years and is all natural. It has remained pretty much the same, with just a few additional ingredients added to help with problem skin. It contains no artificial colors, fragrances, or parabens.
I have been using this skin creme every day. It is very creamy and has a very mild scent. It came with a plastic inner lid and a small spatula to scoop the creme. I love this skin creme. I have always used a moisturizer on my face because I have very dry skin. This left my face feeling soft and clean. It goes on very smooth and doesn't feel heavy at all.
Ingredients: Aloe, Leaf Juice, Essential Water, Coconut Oil, Grape Seed Oil, Honey, Lactobacillus/Salix Alba Bark Ferment Filtrate, Emulsifying Wax NF, Stearic Acid, Glycerin, Organic Shea Butter, Thyme Extract, Burdock Root Extract, Manuka Leaf Oil, Harakeke Leaf Extract, Phenoxyethanol, Polyaspartate, Bergamot Oil, Roman Chamomile Distillate, Sweet Almond Oil, Niacimide, Lemongrass Oil, Aspen Bark Extract, Xanthan Gum, Caprylyl Glycol, Sorbic Acid, Zinc Oxide, Turmeric Root Extract, Diheptyl Succinate, Capryloyl Glycerin.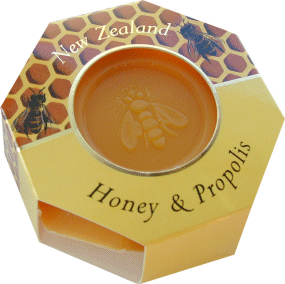 The New Zealand Manuka Honey and Propolis are known for their moisturizing and skin protective properties. When they are put together they are the perfect combination to care for your skin.
Alaina is always wanting to buy new hand soap. She has always loved to wash her hands and she does it often, but she also loves smelly things. When we received this Honey & Propolis Soap she made everyone smell it. It has a very pleasant smell and it is not over powering at all, but it leaves the bathroom smelling very nice. The whole family has been using this soap every day. I have very dry skin and I am very particular with the soaps I use. I actually haven't used bar soap in a very long time and hadn't had as much of a problem. This soap is not drying to my skin at all & I love using it.
Ingredients: Sodium Palmitate, Sodium Cocate, Water, Glycerin, Fragrance, Sodium Chloride, Propolis extract, Manuka Honey, Tetrasodium EDTA, Pigment Yellow 1, 11680, 2512-29-0, EXT D&C yellow 5, Food red 1, 14700, 4548-53-2, FD&C red #4, Pigment yellow 42 FEOOH, 77492, 20344-49-4
The Argan Oil and Sandalwood Hair Tonic is intended to be used on your hair to add shine to dry, frizzy hair, but it can also be used as an aromatherapy oil. It has the fragrance of Australian Sandalwood. I would describe it as a subtle sweet woodsy smell, but not over powering. It is recommended that you use 1-3 drops of this oil on your hair daily.
You can see where Amber got the oil on her hair and where she missed pieces.
I have natural curly hair and so does a few of my kids. Mine isn't as thick as it used to be, but my kids hair is very thick, curly, dry, and gets frizzy. We were very excited to try this hair tonic. The first time we used it, we used to much and Amber's hair looked greasy. It took a few times to get just the right amount for each kid. Alaina could never get the right amount so I mixed a little of the oil with water in a skirt bottle for her to spray on hers. She isn't as frizzy as Amber and I, so this worked great for her as long as she remembered to shake it before she sprayed. I think it was easier to get the right amount if it was applied to dry hair. Amber uses it while her hair is wet, but she usually takes a shower at night, so she has to add some more in the morning when she gets up. It does leave our hair shiny and helps with the frizz. We are going to Florida next month and I am really hoping it helps in the humidity.
Ingredients: Vitis Vinifera (Grape) Seed Oil, Argania Spinosa (Argan) Oil*, Santalum Spicatum (Australian Sandalwood) Oil,* Helichrysum (Helichrysum) Essential Oil*, Citrus Bergamia (Bergamot) Essential Oil, Citrus Paradisi (Pink Grapefruit) Essential Oil.*organic ingredient
Everything we have tried from Koru Naturals has been a hit in our house. I love that their products are all natural without artificial scents. Alaina and I like to browse their website to see what other products we would like to try. Members of the ReviewCrew received other products from Koru and I will be reading their reviews to see if we want to try some of them.
Free first class shipping is offered on $35 order or more.
Social Media
Koru Naturals
Skin Clear Cream
Manuka Honey & Propolis Soap
Argan Oil and Sandalwood Hair Tonic
Facebook
Pinterest