It seems like I have been noticing more and more movies lately that not only entertain us, but they are also appropriate for the family and have Christian themes. Maybe I'm noticing them because I was

introduced

to FishFlix.com earlier this year & they are an online Christian movie store. We just finished watching

Faith of Our Fathers DVD 2015 Edition

from FishFlix.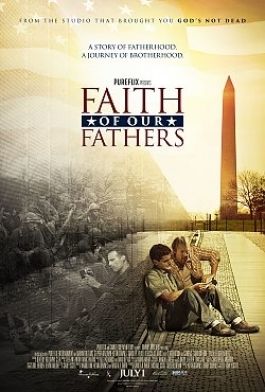 Faith of Our Fathers takes us back to the Vietnam War in 1969. Two men, Eddie and Steven, are deep in the jungle on a mission. They write letters to their wives, mentioning their sons often. One son is an infant and the other isn't born yet. We also see the two boys as adults on a road trip to visit the Vietnam Wall in Washington DC to see their fathers names. Even though the boys' dads have been dead for 25 years they get to know their fathers and how they died by reading their letters on the road trip. By searching to know their fathers they eventually find themselves.
Both stories parallel each other in this movie. We see a clip of the dads and then we are back with the boys throughout the movie. Both missions last only five days, and all four men face funny and sad trials throughout their missions. This full length movie is rated PG-13 for war violence, but there is no gore.
I watched this movie myself, my girls weren't interested in watching it once it got started. I liked the concept of this movie and really appreciate that this is a clean movie. Some of the experiences the sons have at the beginning of Vietnam Wall journey are very unrealistic and make them seem like they have no sense, and some of the things that were supposed to be funny really weren't. It does get better as you get into the movie and has a very emotional ending. This movie has a good message and we see how our actions and words can help others to overcome things in their lives even years later. Scripture is used throughout the movie by one of the dads and his son. They eventually persuade the other man and son to look to the Bible for comfort.
FishFlix
is an online store that offers thousands of Christian DVDs with free shipping on purchases of $35.00 or more. This family owned company has a mission to bring you the greatest christian and family-friendly films at great prices. They believe that God's message can be spread through media and entertainment, and they want to offer a great way to spend quality time with your family through Christian movies and TV programs.
Faith Of Our Fathers will be available on October 13, 2015 from FishFlix for $14.99. The pre-order sale is $9.99.
Social Media
Facebook
Twitter
Pinterest
Google+
YouTube
Members of the Schoolhouse ReviewCrew received several FishFlix titles including Little Boy, Do You Believe, When Calls the Heart, Living Waters. You can read those reviews on the Schoolhouse Blog by clicking the banner below.