Math is not my kids favorite subject. They would much rather study about some far off place hundreds or more years ago. This summer we have been using

UnLock Math

.
UnLock Math is an online math program that teaches Algebra. We received

UnLock Pre-Algebra

to review and the Algebra course will be available in August 2015 with Algebra 2 coming out in 2016. Unlock Pre-Algebra will cover 159 days if used according to the

Pacing Guide

.
Amber loves story problems and fractions, but she hated the program she used last year for Pre-Algebra, so I thought we would like to give UnLock Math a try. The program is very user friendly. When the student first logs in they will see their dashboard. They can choose to unlock a section by clicking on the padlock for that lesson or they can launch their lesson by clicking on the red rocket. From this page you can also see your course progress and percent, launch the grade book or see a progress report.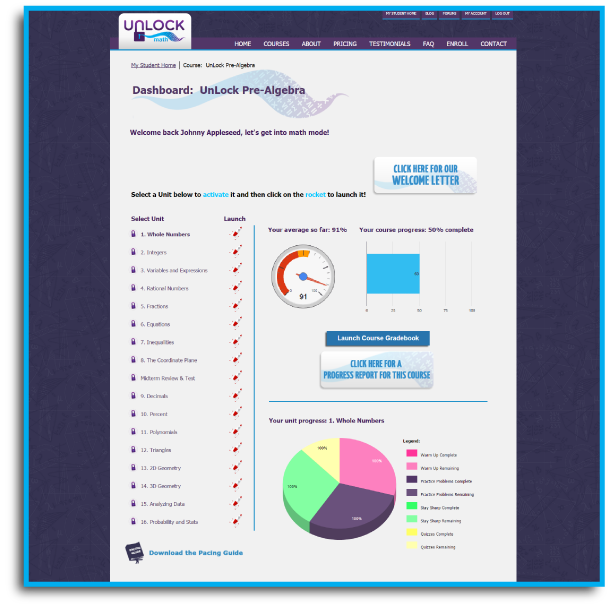 Once Amber launched her lesson she knew at a glance where she needed to go each day. There is WarmUp in the top right with little dots that lead to the video segment, then they lead to the Practice, Stay Sharp, Challenge, and Reference Notes. There is no way she could get lost.
Warm Up ~ There are a few review questions to get your brain in math mode. Once Amber completed them she could look at her results, but they do not count toward the grades.
Video Segment ~ The videos are given by UnLock Math creator Alesia Blackwood. These video segments are very short and she is very animated as she talks. She uses facial features and hand motions that make you feel you are actually in her class.
Practice ~ Here the student has questions that relate to what was just taught in the video. These questions can be answered as many times as they need to and the best grade will be recorded. This section is 30% of the grade.
Stay Sharp ~ There are review problems in this section. The student can work on these as many times as they would like and their best grade is recorded. This section is 10% of the grade.
Challenge ~ A story problem to get the kids to think is included here. This problem may not be for everyone and it doesn't have to be answered to show the lesson is complete. If the child chooses to answer it they are awarded 5% bonus.
Reference Notes ~ This is a down loadable note page from the lesson. The vocabulary words are written in a bright blue color. This makes it easy for the student to find what they need especially when they need to review a concept.


There are also Reviews, Quizzes, Tests, Midterms, and a Final Exam. The reviews are not graded and can be completed as many times as the student needs. The quizzes are 15% and can be completed twice and the average score is recorded. The tests are worth 30% and can be taken twice with the best grade being kept. The midterm can only be completed once and is 5% of the grade. The final exam is worth 10%. This can only be taken once and will give you a good indication of how much of the material the student has retained.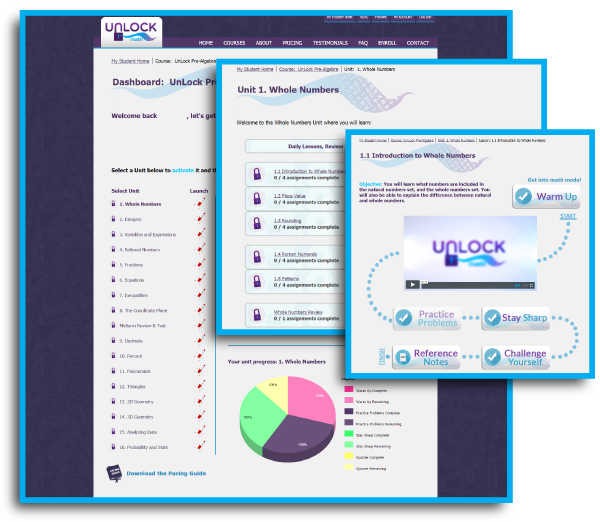 Amber used the program, she said she is understanding things better now & she really likes that the videos are short and get straight to the point. Amber and I both think that Aleisa has made Pre-Algebra very easy to understand. I am looking forward to seeing how much of the information Amber retains when she is finished. I am hoping she actually gets it this time around and can move onto Algebra with confidence.
Aleisa was a homeschool student starting in 4th grade. She went back to public school for high school and she knew she wanted to become a math teacher. She holds a teaching certificate to teach 7-12 grade math. After marrying her husband and having children they realized there is a need for a homeschool math curriculum that would ease the stress of teaching your children. Together using Aleisa's method of teaching they started UnLock Math.
Social Media
Facebook
Twitter
Pinterest
Google+
Instagram