My kids and I love to play games, and I love when we find educational games that they like to play as much or more than games of chance. Our newest game we have is

Shape Whiz

from

SimplyFun

.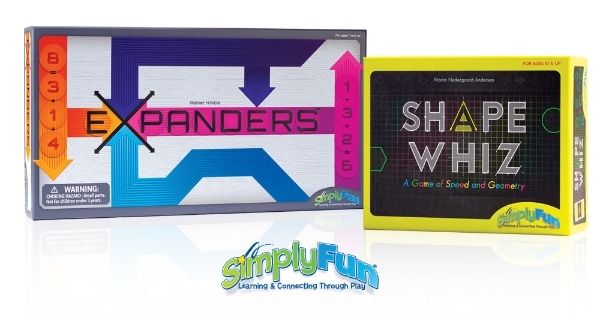 Shape Whiz is a game of Speed and Geometry recommended for ages 10 & up. The game comes with shape cards and whiz cards. There are two sets of shape cards. There are 45 basic shapes and 35 complex shapes. You can use the basic shape cards for younger children or just to make it easier while learning to play the game. Then mix in the complex shapes for older children or for more of a challenge. Each player is given 15 shape cards (or less for quicker game play) and flips over three to play with at a time. One whiz card should be looked at at a time and the players race to see if they have a shape to match the description. If you have a match, your shape card and the whiz card will be discarded. The player to run out of their cards first wins.
The shape cards contain geometric shapes on a grid. The regular shape blue cards are basic shapes like squares, triangles, rectangles, trapezoids, and parallelograms. The complex cards are green and contain circles, tear drops, half ovals, hexagons, and more. On the back of these cards you will find information that answers the questions on the whiz cards. It tells you the number of sides, perimeter, area, and more information to help answer the questions.
The whiz cards are double sided and they contain phrases to be answered by finding the correct shape card. There is a sample shape on a grid in the middle of the card. If the player doesn't know if their card matches the whiz card they can look at the back of the shape card to find the answer.
The instruction booklet contains all the instructions to play the game and the principles of geometry. It explains mathematical signs and symbols, area, angels, curves, polygons, and more to help you understand what the whiz card is asking.
We played this game as a family. The first couple of times we played and every time when Alaina (age 10) played we didn't race to see who could find the correct card. We all looked at our three playing shape cards to see if we had a match. If we had a match we all discarded them. That way she could have more time to see if her cards matched and could work on concepts that she doesn't know. I was very surprised that everyone caught on very quickly. After just a few times even Alaina could look at her shapes and quickly see the area and perimeter of her shapes. The biggest thing my younger kids struggled with at the beginning were the angels, but they are slowly picking up on those.
I absolutely love this game. Even with everyone slowly looking at their cards to see if they had the right ones it went very quickly. The best part is they are getting faster at recognizing the concepts they know and they are learning new ones without trying. I think it would be great if the shape cards had the name of the shapes included on them. There are a few of the complex cards that Alaina wasn't sure what to call them.
SimplyFun is a young

award-winning

company that has big dreams of making the world a better place through play. They have over

100 products

that meet educational needs of children ages 3-103, but are fun for the whole family. They offer games for many concepts including math, science, geography, language development, and more. The games can be played in 30 minutes or less or longer when your kids won't want to quit.
If you are into saving money on games or making money selling them you can join SimplyFun as a

Playologist

, join their discount club as a

Play Saver

if you are planning on purchasing several games, host a

Laugh & Learn Party

with SimplyFun online or in your home, or use the coupon code below for your first purchase.
Members of the Crew also reviewed the games

Expanders

. I plan on reading their reviews to see if we would like it & I already have a wish list going of other SimplyFun games we would like to play.
~~Coupon Code~~
To receive 15% off your first order placed by July 31, 2015 use code: SHREVIEW
SimplyFun Social Media
Facebook
Twitter
Instagram
Pinterest