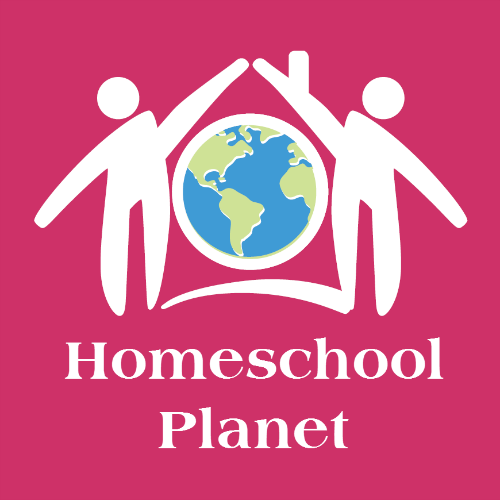 I'm sure I'm not the only homeschool mom that spends part of their summer planning for the new school year. This summer I have been planning using

Homeschool Planet

from

Homeschool Buyers CO-OP

.
Homeschool Planet is online planner that will help you organize your school, your home, your life. You and your kids can have separate logins, you can use it in calendar view, planner view or resources, and even get email or text message reminders. Attendance can be tracked, grades recorded, and transcripts created for each student.
To get started you must have a membership to Homeschool Buyers CO-OP, which is free. After signing up for the

30 day free trial

or making the purchase you can start planning right away. The first thing I did was put our outside activities in the calendar. I included vacations, soccer tournaments, holidays and anything else I knew we would not be doing any book work. Then I looked at when we wanted to start and finish school for the new year. In NE we are required to homeschool 1080 hours for grades 9-12 and 1032 hours for elementary and Jr. high. Homeschool Planet added up my number of school days for me, and this made filling out my homeschool paper work for the state very easy.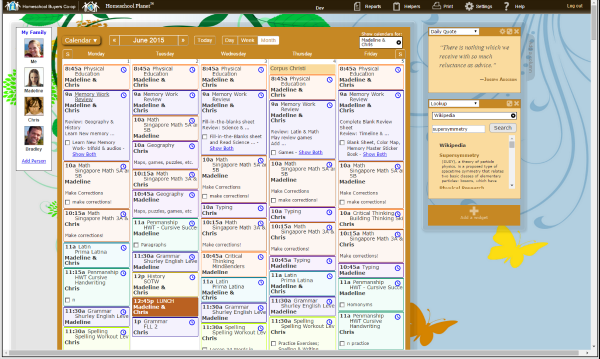 I love calendars! I have a white board calendar on my wall that is 3'X3'. One thing I love about having this in my school room is that I can color coordinate everything. The dates and months are black, birthdays are purple, soccer practice is blue, piano lessons are yellow, and so on. I can do the exact same thing in Planet. Each subject on the calendar is a different color. I also use the calendar on my phone to send me alert reminders. Planet will do this for me in a text or email. Both of my favorite calendar options in one place plus so much more. I have replaced multiple planning features in my home with Homeschool Planet.
After setting up my general calendar I added my girls and then I added each subject we will be using this school year. While adding each subject I can assign it to an individual child or all of them. History is a subject that we do together as a family, we are all always studying the same time period and the older girls are just required to complete more work. So when I added History to our plan I included the name of our spine and assigned it to all three of them. When I added their math curriculum I wanted to include each individual curriculum they were using. That way I can go back and see what each child used when.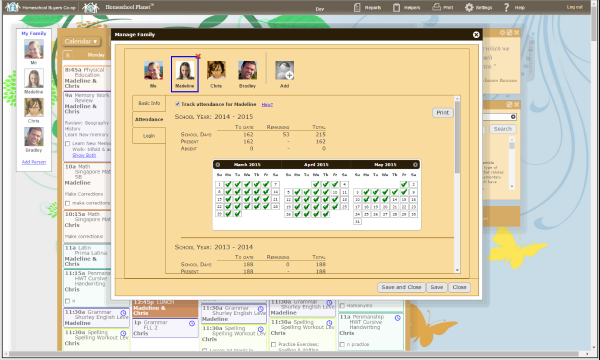 You have the option of viewing the calendar for one day, the week, or the month. There is also a drop down menus at the top to navigate through your family members. You can view every one's assignments and activities or an individual person. This feature comes in very handy when I print each girls weekly schedule to include in their paper planner.
Aside from school planning you can add widgets to the sidebar of your Planet. They can include to do lists, shopping lists, a bible verse or quote of the day. You can choose to email or text the lists to anyone that has been created in your family. The widgets that I have on my Homeschool Planet include quote of the day, bible verse of the day, to do list, and shopping list. We love the shopping list, because when the girls need something they can add it to the list and then send it to me.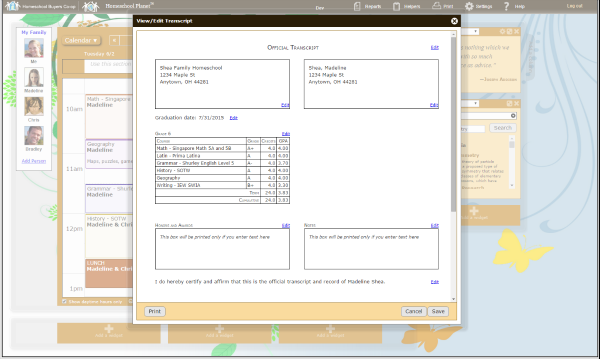 It is very easy to create a transcript. When I bring up the official transcript I have the option of inputting grades in for one year or four. Each course includes the grade, & the GPA. There are also boxes for additional notes & school and student information.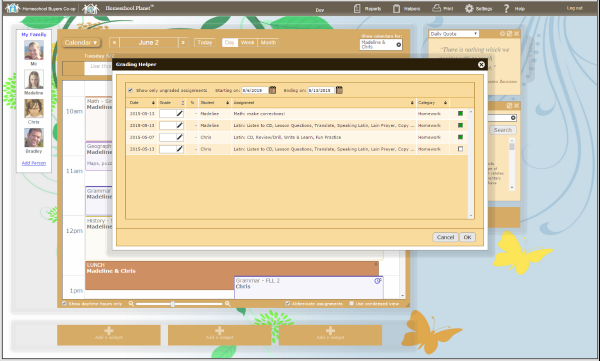 Homeschool Buyers CO-OP provides low cost homeschool curriculum and resources. It is free to be a member and you can get 10-90% discounts on

popular items

. The reason you can get such a discount is because the CO-OP brings multiple families together that want to purchase the same product. With that buying power we can get a better price.
Social Media
Homeschool Buyers CO-OP
Homeschool Planet
Facebook
Twitter
Google+