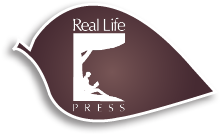 I don't get to read a lot of books just for me, they are usually books for the entire family as read a aloud or they are school related. When The Busy Homeschool Mom's Guide to Romance by Heidi St. John first came out I wanted to read it. I loved Heidi's style of writing and enjoyed that book so much when to Crew was offered other books written by her I knew I wanted to read one, so I chose

The Busy Homeschool Mom's Guide to Daylight

.
Heidi and her husband Jay offer publications that hold to biblical truth at

Real Life Press

. They want their readers to have self-worth, purpose and happiness that hold to the age-old truths.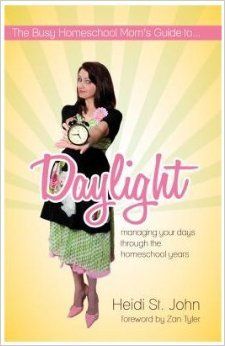 The Busy Homeschool Mom's Guide to Daylight is a 200 page book that helps manage our day. I received my copy of the book in E-PUB format. I sent it to iBooks in my iPad mini. It was very easy to send there & open up. The book looks really good in iBooks & it is so nice having it with me while I am out. I love how Heidi is not afraid to tell us like it is. She has been there and she knows how we are. As a homeschool mom of seven she understands how our priorities can get out of whack & that we may want to give up on homeschooling. That is probably why she starts with telling us to get our priorities in line in the introduction.
The book is divided into eight chapters.
Intentional Daylight ~ Why You Need A POA, ASAP
Organized Daylight ~Controlling Clutter and Reclaiming Your Space
Scheduled Daylight ~ The Delight and the Dangers of Scheduling
Hungry Daylight ~ Feeding Your Family Without Losing Your Mind
Discouraged Daylight ~If At First You Don't Succeed....Try, Try Again
Consolidated Daylight ~ Multi-Level Teaching
Wasted Daylight ~ Virtual Reality
Surrendered Daylight ~ Finding His Heart For Your Homeschool
This book helps us get our whole life under control and organized by being intentional with our day. We shouldn't feel like we have to deal with everything alone. Heidi encourages us to open up and be honest with our husbands and women friends when things aren't going so well.
It is really neat to see other day to day schedule from other moms. What works for one family isn't going to work for the next one. Heidi tells us that we need to be flexible in our scheduling. I learned that the hard way. My husband is on call 24 hours a day 7 days a week, so we have to be very flexible with our schedule.

Heidi is very real in this book. She shares stories from her own life that we can relate to. It is very encouraging to see how other people go through the same difficulties we do in our day to day lives. Heidi is right when she says we should surrender our days to God. If we have our priorities right with God first, spouse second, then our children, and lastly outside activities we can make it through the seasons of our life while continuing to homeschool.



Social Media
Facebook
Twitter
Pinterest