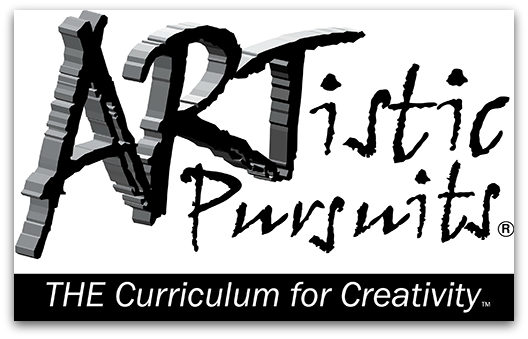 My kids are always drawing, doodling, or coloring. Using

High School 9-12 Book One: The Elements of Art and Composition

from

ARTistic Pursuits

has helped them notice details they were missing before.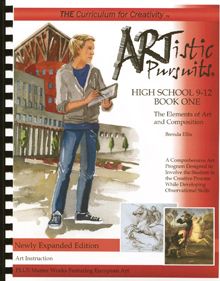 High School 9-12 Book One: The Elements of Art and Composition

was written by Brenda Ellis. This softcover comb bound book contains 92 pages. This book is non consumable, so you can use it with all of your children. It is one full year curriculum with 68 lessons completing 2 classes per week. All assignments are written in red & the recommended time for each class is about an hour. The 16 units are divided into four sections:
Building a Visual Vocabulary~ A topic is explained in words & pictures. Students learn to make works of art from real-world observations.
Art Appreciation and Art History~ There are works of art by the masters that use the topic taught. Art history & art appreciation is also included in this section.
Techniques~ This section introduces the types of materials and tools that are used.
Application~ A final project using the new technique and the topic is completed in this section using things in and around your house and nature.
There are so many things to love about this book & every book from ARTistic Pursuits. The art supplies list is in the front of the book divided into first and second semesters with additional supplies listed separate. This makes shopping for art class so easy. I also love that there are pictures drawn by other students. This gives my kids a realistic look at what their art work should look like & they aren't discouraged when it doesn't turn out perfect. The assignments are written in red. When we do our lessons together I like to read the assignment to my kids before we read the lesson that way they can think about what they are going to be doing while they are listening to me read the history or techniques. It also makes it easier to go back and see the assignment again if someone doesn't work on it right then.
High School Book One covers space, texture, shape, form, contrast, balance, rhythm, and more. It uses basic supplies that can be found at any office or craft store. Since my adult daughter is a very talented artists we figured out early on that we needed a good supply of art supplies so we didn't have to purchase anything for this book. The supplies for Book One are drawing pencils, vinyl & rubber erasers, drawing pad, charcoals, and pencil sharpener.
All three of my girls ages 10, 12 & 14 sat in on this class. We usually do ARTistic Pursuits together. That way I know what the girls should be working on & can easily help them when they need it. I read the text and we discuss what was taught. Sometime they come up with a lot of good things to draw, but once in awhile one of them would draw a blank. When that happens we all just brainstormed together to come up with a lot of different things to draw.
We all enjoyed working in Book One. Of course the girls liked the assignments the best & several days we actually spent more than an hour drawing. At night when I read aloud to them before bed they would get out their art notebook and practice the different techniques again in the evening. I love that this book can be used with all of my kids. Even though Alaina is going through it with her bigger sisters this time, I will have her go through it again in a few years when she is older. I have to admit my favorite part of the curriculum is the information we read about the artists and art history. After just using this book for a couple of weeks my girls have already improved. They are noticing things around them and have been adding more details to their pictures they draw or color for fun.
Artistic Pursuits Facebook