Years ago I ordered a Mind Bender book with some of our other curriculum & my kids loved it! We have been using them ever since. When

The Critical Thinking Co

. came up for the Crew to review we knew we wanted to be on this one. We were offered a choice of 8 items & we chose

World History Detective Book 1

.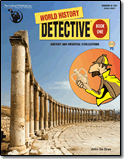 World History Detective Book One covers ancient and medieval civilizations. It is recommended for grades 6-12 and beyond. This 362 page softcover book divided into four sections: Prehistory, Ancient Civilizations, Medieval Civilizations, and Early American Civilizations. This book can be used as a stand alone curriculum for lower grades, a supplement for another textbook, or review for older students. It helps students with reading comprehension, writing skills, and critical thinking in the 78 lessons. Each lesson contains a reading selection, questions, and a map. Each sentence in the reading passage is numbered. The questions are multiple choice, short answer, or essay questions. The multiple choice questions offer 4 selections to choice from. After the student chooses the answer they are asked to give the number of the sentence that supports their choice. The questions also help the student draw conclusions, and distinguish between facts and opinions.
Amber just turned 14 and she could not wait to get this book. She loves history, geography, and Mind Benders. We are studying Ancient China right now, so we skipped to that section in the Detective book and included it in our studies. Amber went back to the beginning to work on the lessons we skipped. History is a subject that we do together as a family. After reading and discussing our lesson for the day we read the corresponding lesson from the Detective book. I would have Amber & Delaney (age 12) answer the questions and I would help Alaina (age 10) with her questions. Sometimes I would have Amber & Delaney answer the short essay questions and other times we would discuss it together.
We really enjoyed adding this book to our study of history. I really like the questions. Some of them contain statements and the student have to tell whether it is fact or opinion. The multiple choice questions aren't like most I have seen. They actually get you thinking about what you read enough to draw conclusions. It was harder for the girls to find the sentence where the answer comes from when I read the lesson out loud. When they read the lessons themselves they could find where they read the answer easier.
This book does not teach about a biblical creation. It states there is uncertainty about the beginning of human life and gives time references to millions of years. We just used these opinions to reiterate what we believe about a young earth & a biblical creation.
Another thing I love about The Critical Thinking Co. is their copyright. The original purchaser of the World History Detective Book is authorized to reproduce each page for their home or classroom up to 35 copies.
This book would make a great addition to any family. No matter if your children homeschool, private school, or public school.
Using products from The Critical Thinking Co. has made my children better problem-solvers. My 14 year old loves solving problems and is even tossing around the idea of becoming a forensic scientist because she wants to solve problems.
The Critical Thinking Co. Social Media
Facebook
Google +
Twitter
Pinterest