Everyone who has children have to make the decision of how they should be educated. For us, public school was never an option. I just could not imagine being away from my kids all day Monday-Friday. Mike and I had decided before we had kids that I would stay home with them & when they reached school age we couldn't imagine them being gone. Plus I felt that my public school education was lacking academically & the school Mike attended was full of drugs. When we first started we had a few reasons to home educate our kids, but now years later we have many many more reasons to continue. Our reasons were reinforced in the film

IndoctriNation: Public Schools And The Decline Of Christianity In America

from

Great Commission Films

.
IndoctriNation is an 102 minute film where Colin Gunn loads his homeschool family into a big yellow bus and drives across the United States. His purpose is to ask questions about the American public school system. He wants to find out the history behind public education, where it came from and the reasons behind it. He interviews many people along the way including John Taylor Gatto, Doug Phillips, Ken Ham, E. Ray Moore, along with teachers, principals, and parents.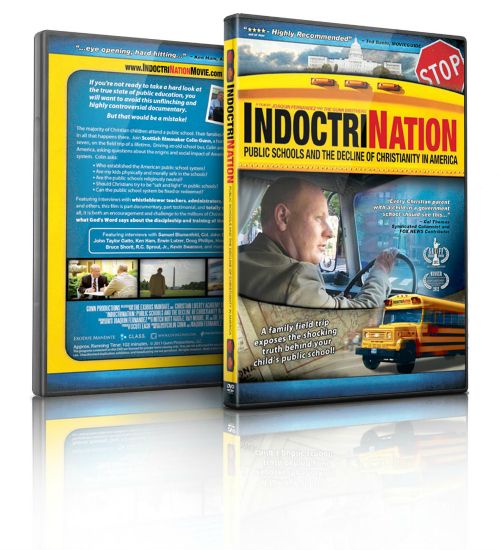 Colin Gunn

is a filmmaker and a Christian homeschool dad. He wants people to be aware of what really goes on in the public school system. He purchased an old school bus on Craig's list and uses this bus as an illustration of the declining public school system. As they have mechanical issues with this bus he tells us about things that are wrong with the public school system. Colin shares some negative things from his public school experiences that were some of the reasons he wanted to homeschool his children. He goes on to show us negative things that are promoted by the public school system that do not align to Christian beliefs. And he tries to answer the question of should Christian families send their children to public school. He interviews former students, teachers, and principals that are Christians who all agree the public school system is not the place for Christians regardless of their position.
He shares examples of things that are rampant in the school system such as drugs, sex, and violence no matter what school system they attend. Big government and politics also play a big role in the decline of the public school system. The politicians, and teachers unions are out for themselves to make more money instead of for the children.
I found the history of the public school system to be very interesting. Colin starts with the Puritans. One reason they wanted their freedom was to have control over their children's education and they used the Bible as their textbook. They were taught their alphabet with a poem for each letter that taught biblical principals. They started a common school to teach children to read and understand the Bible. This didn't last long as other men brought in their own philosophy of humanistic views.
I started watching this film myself and then my 13 year old came and joined me & now she wants to buy an old school bus. She has never been to public school and was actually shocked about some of the things that are discussed. There are issues that younger children may not be ready to hear about such as condoms, abortion, sex, and homosexuality. I was appalled to learn from this film that some school systems are handing out condoms to 6 year old children. Some of them passed out by Planned Parenthood are even wrapped like a smiley face sucker to appeal to young children. A school principal actually admitted that the parent could not call in and restrict their children from getting a condom.
I have a lot of negative memories about growing up in a government school and I got involved in a lot of things that I should not have. I feel I had a lot of common sense, but my academics were lacking. I know that part of this is because I was not motivated to learn & found school to be very boring and most of what we learned irrelevant to life. I have noticed that this is a common thing just from having contact with public school children and graduates. I have met a couple of high school graduates in the last few years that make me wonder how society will function in the future. This is not just in my immediate area. Dr. David Goetsch Vice-President of Northwest Florida State College informs us that 70% of high school graduates need remedial classes before they are ready for college courses. He says a big part of the problem is students are taught the test and they are not actually learning.
We loved how this film was put together, there is a lot of travel & interviews that kept it interesting. There is so much information and we learned a lot. We have never regretted educating our children at home. They have a good relationship with each other that will continue for the rest of their lives. Homeschooling is no guarantee that our children will always walk with the Lord, they have their own free will to live their adult life as they choose, but I know I have given them a biblical foundation.
Blessed is the one who does not walk in step with the wicked or stand in the way that sinners take or sit in the company of mockers
Psalms 1:1
Everyone should be concerned with the public school system and should watch IndoctriNation. These children are the future of our country & parents need to know what really goes on in the system.
Facebook
Twitter
Vimeo
YouTube