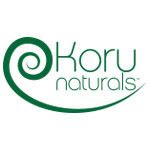 One thing I hate about winter is the dry skin we all get!! I continually use lotion & lip balm, but my kids usually don't & only complain when their hands are cracked and bleeding. After years of putting up with this I finally found something that will work quick. That would be

Pure Emu Oil

from

Koru Naturals

.
I received

Pure Emu Oil

and

Pure Lanolin Lip Balm

from

Koru Naturals

to review and all three of my girls and myself have been using them.
I'll admit I had never heard of Emu Oil before. So I had no idea what it was for or how it should be used. The Pure Emu Oil from Koru is a powerful moisturizer for skin and hair. It contains all natural ingredients, including vitamins, minerals, and Omega 3 & 6. They test each batch to make sure it contains all the natural concentrations, and it's hypoallergenic and will not clog your pores.
We used the Emu Oil on our hands, face, hair and as a carrier for our essential oils. I think I'm the only one who used it on my face. I used it every night before bed. You only need a little bit and it feels really good on my skin. It wasn't heavy at all. The first time I used it I got way to much and I was a little shiny & greasy. After reading the directions I found out that when I felt this way I had used way to much. My daughter's leg was sore so we mixed our doTerra Deep Blue Essential Oil with the Emu Oil and it worked great as a carrier. We also used it on our hair. I have naturally curly hair and it can get very frizzy. I used the oil on my hair after it was dry to tame down my frizz! I used it on my girls straight hair to smooth their static. For the girls I just used one drop of oil and rubbed it in my hands and smoothed it on their hair. I used a couple of drops on mine and used my fingers to get it all over. All three of my girls used it on their hands.
This is Alaina's hand. It was very red and was just starting to crack. She loves to wash her hands and she will use a lot of soap and she will wash them a lot. We put Emu Oil on it right before bed.
As soon as she got up she came and showed me her hand. She said it isn't burning any more & it is almost better. She put it on a couple more times throughout the day and it completely gone the next morning.
The Pure Lanolin Lip Balms

come in a four pack. It is 100% pure anhydrous lanolin and comes in .2oz container. There are no additives, preservatives, colorants or fragrants added. I love that these come in a four pack. I keep one by my bed, one in my purse, one by my computer, and one in the kitchen. This lip balm works great. It actually stays on in the cold and wind. My girls have been using them too. And today I couldn't find the one that sits by my computer.......I found out it is in Alaina's room! The only down fall with this lip balm is it gets to soft when I tried to keep it in my pocket.
Koru Naturals has been bringing the beauty of New Zealand to the U.S. since 2002. They offer a wide variety of products including skin care, bath salts, and eye contour. They think products from New Zealand offer better value and emphasize natural substances more than the products found in the U.S. Originally they were using the products themselves and sharing with their friends. They believed in the products so much they opened their own store to offer them to other people.
All Crew members received the Pure Emu Oil and one other product. The other products were Koolpurrie Restoring Balm, New Zealand Pure and Simple Lanolin Cream, or Manuka Oil and Honey Shampoo and Conditioner. You can read those reviews on the Schoolhouse Review Crew Blog.
Koru Naturals Social Media
Facebook
Pinterest