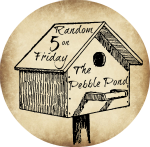 The Pebble Pond hosts a
Random 5 on Friday
link up & I decided I would join her this week. Here are my Random 5:
#1~ Today is my birthday. I got to enjoy the day with my husband and three youngest kids. We went to lunch and just hung out for the day. I had a lot of phone calls including ones from my two adult kids. And NO, we did not have a birthday cake!!
#2 ~ I love chicken fried chicken with mashed potatoes and gravy. I usually only have this for my birthday dinner at Applebee's. They took it off the menu, so I chose to eat somewhere else. They didn't have it either. :( I may have to make my own soon.)
#3 ~ A few years ago my dad gave my my grandmothers Hoosier cabinet. It has several layers of pain on it, so I wanted to get that stripped and repainted before I brought it inside. I started that today & it is actually easier than I thought it would be.
#4 ~ We have been organizing and getting rid of things no one ever uses any more. Some of the hardest things to part with are things of my kids. We had a child's recliner & two little rocking chairs. No reason or room to keep them if no one is ever going to sit in them. :(
#5 ~ My kids noticed I was writing about random things. Delaney said it is probably random that we have a wall map of the United States & the World hanging in our family room. And that we also have a calendar that is 3'X3' in there too.
Thank You Pebble Pond for hosting this Link Up!