A lot of homeschool parents worry about teaching their kids high school level science. We just found out about Fascinating Education that teaches middle school and high school science. We have had access to

Fascinating Biology

and it makes teaching this level of science so much easier.
Fascinating Education

offers online science classes that teaches by using illustrations as the primary teaching tool and then supplements them with text. This approach uses the right hemisphere of the brain and can help students stay focused on the subject that is being studied. There are currently three courses to chose from. Fascinating Chemistry, Fascinating Biology, and Fascinating Physics are recommended for students in middle school through high school. One course

may be purchased

for $79., two courses are $125., and all three courses for $175. You will have access to the courses for one full year.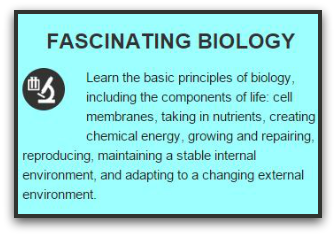 We received access to

Fascinating Biology

. This biology course assumes that you know nothing about biology when you start. It teaches basic principles of biology in 18 lessons:
Lesson 1~ What is Life?
Lesson 2~ Chemistry Review
Lesson 3~ Cell Membrane
Lesson 4~ Take in Nutrients
Lesson 5~ Take in Energy, Part 1
Lesson 6~ Take in Energy, Part 2
Lesson 7~ Take in Energy, Part 3
Lesson 8~ Take in Energy, Part 4
Lesson 9~ Grow
Lesson 10~ Reproduce, Part 1
Lesson 11~ Reproduce, Part 2
Lesson 12~ Reproduce, Part 3
Lesson 13~ Homeostasis, Part 1
Lesson 14~ Homeostasis, Part 2
Lesson 15~ Adapt, Part 1
Lesson 16~ Adapt, Part 2
Lesson 17~ Prokaryotes, Protists, Animals and Fungi
Lesson 18 ~ Plants
The Biology course was written by Dr. Margulies. He is a neurologist and understands how the brain works, how we learn, focus and retain information.
Once you log into your account your course screen will show you all of the lessons. You have the option of watching the Lesson, reading the Text, or completing the Test.
When you chose to watch the lesson you will have a list of each topic covered in the lesson. The video will continue through the entire list or you may stop & start or re-watch any one of the topics by clicking on it or by using the next or previous button at the bottom of the video. There is also a Glossary that includes the terms used during the lesson. You may click on any of the words to show the definition underneath.
The text may be read directly on the computer or you may print it out and use it to follow along during the video/audio lesson or use it for review.

The online tests are multiple choice and are automatically graded. You may go back and forth through the questions until you submit your answers for grading. Or if you would rather print them out you can access the tests as a PDF.
Fascinating Biology is very detailed and Amber (age 13) and I like watching the video as we were being told about the topic. We both think it is easier to remember the information when we have a visual to go with it. Amber has retained the information she has learned, but she thought the audio was a little monotone. She said there wasn't much inflection in his voice. We have been working on reading aloud to an audience, so this topic is fresh in her mind. Each lesson was very easy to use, if you need to stop for whatever reason you will be taken to where you left off when you return again. This course does include evolution. We used this as a teaching tool as to what some people think and compared it to what we know from the Bible.
Members of the Schoolhouse Review Crew used all three courses. You can read those reviews on the
Crew Blog
.