I believe that the Bible is the inspired word of God and He has watched over and preserved it over throughout the years. I received

The Forbidden Book

from

New Liberty Videos

that tells how God used men to make sure everyone has access to His Word.
In

The Forbidden Book

The History of the English Bible you will discover the fascinating story behind the preservation of the greatest Book in human history. This DVD is 58 minutes long and sells for $19.95. It is recommended for general audiences but younger children may not be interested.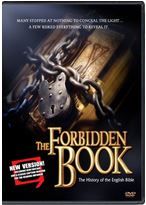 This video is hosted by Dr. Craig Lampe. He takes us across Europe to show important places in Christian history as he introduces us to important people God has used to preserve His word. Dr. Lampe tells us about the original Hebrew and Greek copies of God's Word and the process it took to get the Bible we now have. He tells us a little of how the text was copied and what type of paper was used depending on where it was copied. Several great men were introduced but we learn more about three very prominent men.
John Wycliffe was an Oxford scholar and was the first person to translate the Bible into English. He wanted the general public to be able to read God's word for themselves and he was so hated for this that his bones were dug up 40 years after his death to be burned by Pope Martin V.
Martin Luther was the first man to translate the Bible into German. He went against church authority in the 16th Century by exposing the indulgences of the church. In the documentary we get to see the door where he nailed his 95 Theses that started the Protestant Reformation.
William Tyndale suffered the dungeon and a cruel death for printing Bibles in his illegal printing press. He was the first person to print the scriptures in English. We get to see his printing press location that is now a bookstore.
I watched this DVD with all three of my girls ages 9, 12, & 13. My youngest didn't really watch, she just colored in the same room with us. My 12 & 13 year old liked that they were actually shown the places that were being discussed. This really helps them to remember information when they have a visual for it. There is a lot of information included in this documentary. I have studied this information on my own and with my children before, but seeing the church buildings and old copies of scripture made the information more real and memorable. Studying how we got our Bible is very eye opening and helps me appreciate the book that I love to read. This would be a wonderful addition to any church library or anyone wanting to know the history behind our Bible.
New Liberty Videos

is ran by Brian Barkley and his wife, Marilyn. After becoming a Christian in 1977 Brian and his wife have been producing Christian movies. Prior to that Brian was employed by Universal Studios in Hollywood as an editor on several television series, such as B.J. And the Bear, Sheriff Lobo, and Quincy. Marilyn retired from Hallmark Cards in 2013 where she was employed for more than 25 years.
The Schoolhouse Review Crew had the opportunity to review six different titles from New Liberty Videos. You can read those reviews on the

Crew Blog

.