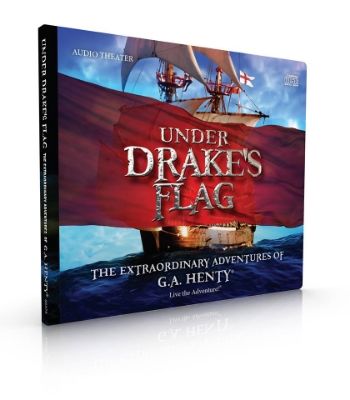 We travel a lot and we are always on the lookout for something to help pass the time in the car. We all love to listen to audio stories, as long as they can keep the attention of everyone in the car. Our new favorite audio CD is

Under Drake's Flag

from

Heirloom Audio Productions

.
We received our copy of Under Drake's Flag a couple of days before we headed out of town. I didn't let the girls listen to it until we were on our way. We all loved it!! Even my husband didn't want to get out of the car when we needed to stop. The dramatization is very well recorded and kept every one's attention.
Under Drake's Flag is about a boy named Ned Hawkshaw. Ned gets to live the adventure of a lifetimes with Sir Francis Drake. He gets to fight off a shark, survive a shipwreck, engages in battles on both land and sea, and comes face to face with the Spanish Inquisition.
This audio drama also comes with a study guide booklet that fits inside the CD case. For each section of the CD we are given three sections to help us understand the storyline and what it teaches. The Listening Well sections asks questions about what was just heard. The Thinking Further section includes questions that get the listener thinking more about what happened or why things certain things happened. Lastly we have Defining Words that come from each section of the story. There is also 3 bible studies and a paragraph about G.A. Henty and Sir Francis Drake in the back. The story chapters are numbered on the CD to make it very easy to pause the story to go over the study guide.
This audio drama consists of 2 CDs that lasts 2 hours and is recommended for children ages 6 and up. It is available from Heirloom Audio Productions for

$29.95

. It was recorded in London and features a wonderful cast including Mark Drury (also in The Chronicles of Narnia audio series). The music score was composed by John Campbell, who has also composed music for Lamplighter Theatre, Focus on the Family Radio Theatre, and Adventures in Odyssey.
We have actually listened to this several times since our first trip. All three of my girls (ages 9, 12, & 13), my husband and myself really enjoyed it. We all thought it is one of the best dramatized stories we have listened to. The story is great and the way it is told is very captivating and held all of our attentions from start to finish. It is full of adventure, but it also teaches moral values. We had listened to the story a couple of times before we started on the study guide. The questions that are included really help discuss the story and it was very neat to see how we all notice different key points from the story.
Under Drake's Flag is adapted from the book, Under Drake's Flag, written by G.A. Henty. Heirloom is coming out with another Henty audio adventure called

Freedom's Cause

this fall & we can't wait to listen to it.
Giveaway!! If you visit

Under Drake's Flag facebook page

you can enter to win your own copy of this audio adventure.