If you read my blog you know that most of my kids are not fond of math, they would much rather read a book or write their own story than anything math related. This summer my girls have been using

UberSmart Software

from

UberSmart Math Facts

to work on their math facts.
UberSmart Software is a windows based computer program that is actually downloaded onto your computer. It drills math facts for addition, subtraction, multiplication, and division. It is available for $24.95 and is recommended for grades K-6. This program can only be used on a computer with Windows 7, 8, XP, and Vista.
This math program is used to review Addition/Subtraction facts that go through the 9s, and Multiplication/Division that has the option of going up to the 20s. There is three ways to use this program. Younger children can learn by using the Dot Cards. These cards look like the face of dominoes. Flash Cards are there for the older kids, and then there is the Keyboard Entry which would be like a speed drill.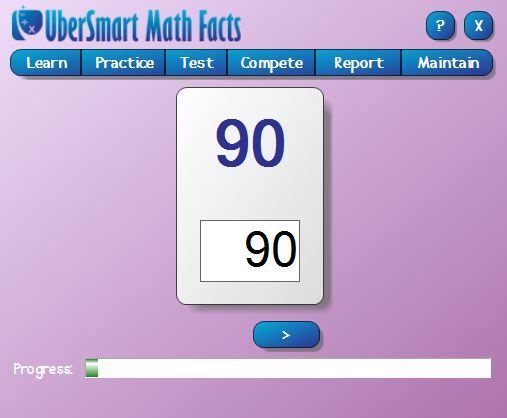 Every time you open up UberSmart Math Facts you will get a screen that will have six tabs.
Learn ~ This is where you chose Dot Cards for Beginners and Flash Cards for Intermediate. Here the fact is shown and you can click the Show button to see the answer.
Practice ~ You may choose to practice on the Dot Cards and Keyboard Entry for beginners, or Flash Cards for intermediate students. With the Dot Cards you get to select an answer, in Keyboard Entry the beginning student just types the number for keyboard practice, and in the Flash Cards the student types the correct answer.
Test ~ Here we have Assessment Tests for beginners and Mastery Test for intermediate. For these test you click the answer, but you have to click the next button to get a new fact.
Compete ~ You will select the student and what level they are, and what facts they would like to work on here. Once a fact is given the card will move on automatically and you should be ready to answer the next fact card.
Report ~ Here you can look at reports of the students progress, mastery, assessment, and completion.
Maintain ~ This section is where you access the student accounts and information.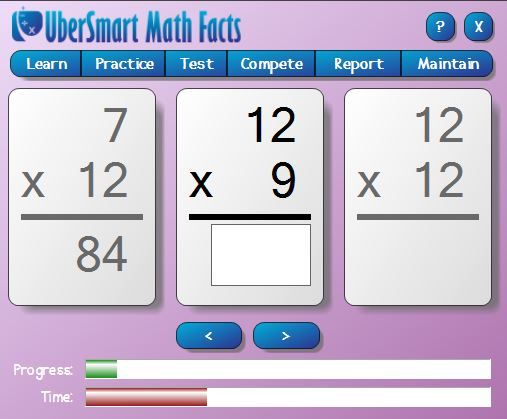 I set this program up for all three of my girls ages 9, 12, & 13. My 9 year old is the only one that likes math. She thinks it is fun and she has really enjoyed using UberSmart Math Facts. The other two know their facts, but I had them work on this through the summer to build their speed and to build the confidence of my 12 year old. Each of my girls used this program several times a week. It is suggested that they use the program daily and I could see an improvement when we did use it every day. With the official start of school at our house I am planning on having them each use this twice a day for a short period of time.
I really like that this program just covers math facts. There is no game aspect, no time wasted waiting on a graphic or video. The student just moves from one fact to the next. I also appreciate that this is a one time cost and the program is on your computer forever. No subscription fees or extra cost for multiple students.
UberSmart Math Facts was created by
David Kocur
. His wife asked him to create a program to help the kids learn their addition and subtraction facts. He thought he would just find one to purchase, but didn't like any of them. He decided to write his own and after having success with his own kids decided to make it available to others. Even his daughter with learning disabilities due to epilepsy mastered her math facts and learned to do long division by the end of that school year.