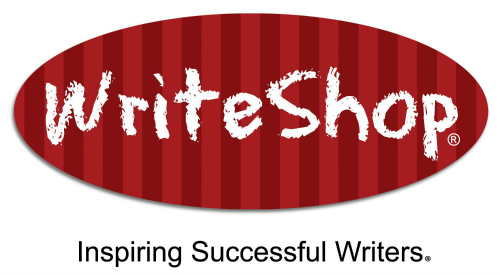 Writing is not something I have to make my girls do, they are always writing stories or in their journal. Since they like writing I want them to be able to write well. Alaina has been using WriteShop Junior Book D from WriteShop this summer to improve her writing skills.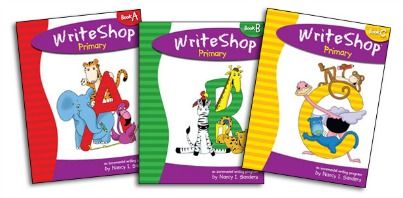 WriteShop Junior is a writing program recommended for children in grades 3-6. Parents will work closely with their student to guide them toward writing independently. The activities and exercises not only teach the creative process of writing they are fun for the child. There are 3 books in the Junior levels of WriteShop. You can choose a level based on your child's age and skills, you do not have to start with the first one. Skills are repeated in each level, so even if your child is missing something you do not have to start them in a lower level to learn that skill.
Two years ago Alaina used

WriteShop Primary Book B

and she loved it. Being the youngest of 5 kids we have a lot of curriculum at our house and this past year I had her use something else we already had. When I told her we were going to review WriteShop again she wanted to know why she didn't use it this past year. When I told her why she said she understood, but she really likes WriteShop better and could she use it every year!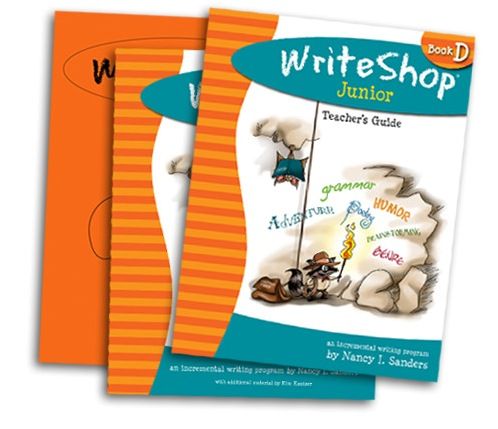 I chose

WriteShop Junior Book D

because it is recommended for children ages 8-11.

The WriteShop Junior Book D Teacher's Guide and Student Activity Pack can be purchased as a set for $45.95.

I wanted this for Alaina and she is 9 years old. The placement guide suggests starting with Book D if your 8-11 year old needs to learn:
Identify and us proper grammar and punctuation.
Choose strong words.
Brainstorm before writing.
Write a paragraph.
Write a short, research-based article.
Self-edit and revise his work.
I received 4 files to download. The WriteShop Junior Book D Teacher's Guide E-book, Activity Pack E-book, Time Saver Pack E-book, and the Fold-N-Go Grammar Pack E-book.
The

Teacher's Guide E-book

contains 266 pages and may be purchased alone for $35.50. This curriculum is divided into 10 chapters:
Letter of Invitation
Humor
Adventure
Science Fiction
Mystery
Poetry/Haiku
Folktales
Historical Fiction
Personal Narrative
Expository Writing: Factual Article
There are sample lesson plans for completing a chapter in 2 or 3 weeks. There are also suggestions on how to schedule more than one child in different levels of WriteShop. There is a list of required and optional supplies that are used throughout the course in the front of the E-book or there is a list at the beginning of each lesson for exactly what is used then. A list of optional books and reference selections is also included. In the teacher helps you can read about how much help you should be giving your student and how you can help them.
Each lesson is set up the same way. You have Objectives, Advance Prep, Required and Optional Supplies, and then the Activities. Each lesson has several activities and then a self-editing checklist.
The

Book D Student Worksheet Pack

comes with the Activity Pack. It contains 66 pages of worksheets used to in the lessons. There are pre-writing activities, skill builders, journal prompts, brainstorming worksheets, reading log forms, self-editing checklists, and Junior Writing Skills Evaluation Charts to keep track of the student's progress.
The

WriteShop Time Saver Pack Book D

contains all the games and activities to make it easier to print them all off. It is available for $11.50.
The Level 1 Fold-N-Go Grammar Pack is also included and it makes 10 Grammar Guides out of 72 pages that can be used to teach or review grammar and writing skills. The Fold-N-Go Grammar Guides that are used in Book D are:
Lesson 2: Self-Editing
Lesson 6: Adjectives
Lesson 9: Capitalization
Lesson 10: References
I have been using WriteShop Junior Book D with Aliana, age 9. We have been using the 3 week plan over the summer and it seems to be the perfect amount for this time of year. She actually likes all the worksheets and activities. She doesn't look at this as work, she thinks it is fun. After she completes her worksheets she colors all the cute little pictures on the page.
When I was first introduced to WriteShop it was a little overwhelming, but after using it for awhile we got into a groove and it doesn't take that long and when Alaina begs to work on it every day it is definitely worth it. I love the self-editing checklists. She asks for help while she is going through her checklist, but I know eventually she will get better at it and will improve her writing in the long run. The checklist has made her more aware of the mistakes that she repeats every time she writes. I think all the activities are very age appropriate and make learning fun.
I have always had my kids write in a journal. It is never graded and they can write about anything they want. I have them use blank paper because they also use it as an art journal, by including sketches, drawings, doodles, or squiggles of anything they want to add. This course also says that you should not grade journal entries. There are journal pages included that have pictures and prompts to help the student. Alaina has been using them also. She likes the pictures that are on the sheets and she tries really hard to use good penmanship on her pages with pictures.
Another thing that helps Alaina take pride in her writing is that this series has you actually publish your work when you are finished. Lesson 1 is about writing a Letter of Invitation. One of the activities for this lesson is actually making an invitation.
The Fold-N-Go Grammar folders were very easy to put together and they make it very easy for Alaina to find what she is looking for. I'm sure they will become a go to resource while writing for any subject. For example the Fold-N-Go Grammar folder for lesson 2 contains charts of proofreading marks, self-editing tool, tips, and a checklist.
WriteShop is also available in the print version. We received the E-book version for all the books and they were very easy to download and print. I printed all the material at one time and set up a three ring binder for all of the worksheets.
Members of the SchoolHouse Review Crew received other levels of WriteShop and you can read those reviews on the Crew Blog.