The years just seem to fly by. I can't believe my girls are getting so big and we have to start thinking about what we want to study for high school! Amber is really wanting to dig deeper into history and I think we can do that with Veritas Press.
We started Veritas Press: Self-Paced Omnibus I not to long ago. This is an online course covers Creation to the Fall of Rome, and is recommended for 7th-9th grade students that can be completed on your own time. Access for one full calendar year is $295 for one student with additional students receiving $100 off. Veritas Press already had this textbook course, and they have recently added the self-paced online portion.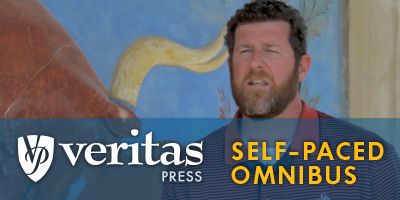 Omnibus is a Latin word meaning "all encompassing". This program combines Ancient World History, Theology, and Ancient Literature through a biblical worldview. Bruce Etter is the teacher of this course. He gives lectures, takes us on tours of historical locations, includes experts on certain subjects, and takes us to the street to ask common people questions. Students are asked questions or given a quiz covering the material at the middle or end of the lesson with the program keeping track of the scores. Literature selections are also assigned throughout the course.
There is also a 599 page digital textbook to go with the program available for an additional fee. The textbook is downloaded into an app called Bookshelf. It includes Essays and Sessions by different authors that will be used throughout the course.
I have been using this program with Amber (age 13) & Delaney (age 12). They have been accessing the course material on their iPad mini & the textbook in the iPad app. We watched the video segments together, everyone did their own reading, and Amber has been the one to answer the questions in the program.
During the Self-Paced program you must proceed in order, you cannot skip ahead, but you may go back and rewatch any segment. The grade is taken on the first attempt to answer the questions, but they are still able to answer again. So far we have studied the book of Genesis, Exodus, and now we are on the Epic of Gilgamesh. We have all learned a lot and we love it when we are taken on location. The visit to the Sistine Chapel gave us a wonderful explanation of the paintings on the ceiling. Amber really likes answering the questions on the iPad, but Delaney would much rather have a pen and paper to answer her questions. I personally love the questions and grading part of the self-paced program. It takes all the work out of checking answers.
Some of the topics are sexual in nature, and their is a parental warning in case you choose not to let your children complete this portion. My thinking is that children at this age should be allowed to read the entire bible and therefore see the sin nature that is in all mankind. My younger daughter did join us for some of the lessons & I did filter what she was included in on. Innocence should still be protected, but by middle school kids need to start seeing that we are sinful and need forgiveness.
My girls love field trips, and we are looking forward to going on ones we would never get to otherwise while working on this course throughout the coming school year. I feel that the price is well worth it for all the work that was put into creating an Ancient History course with field trips included.