When it comes to science my girls love experiments. Sometimes we don't have all the equipment or I will admit that if we are running short on time then that seems to be the thing we skip. Lately we have been watching experiments from

Go Science DVD Series 2

from

Library and Educational Services

.
Library and Educational Services is a family wholesale distributor that serves schools (including homeschools), churches, resellers, and libraries. You must create an account and show that you belong to one of these groups to purchase their products. They offer books, DVDs, and CDs that are in harmony with Christian values & morals. I have a been a member of Library and Educational Services for many years. Every time we order we receive our selections in a very timely manner.
There are 7 titles in the Go Science DVD Series 2. The DVDs are recommended for children ages 4-12, and are available for $8.97 or you can purchase all seven titles for $59.82.
Volume One~ Sound, Gravity, and Space
Volume Two ~Life Science, Weather, and Light
Volume Three ~ Air
Volume Four ~ Motion, Friction, Electricity, Light
Volume Five~ States of Matter and Water
Volume Six ~Chemistry
Volume Seven ~Engineering, Design, and Flight
Ben Roy is the teacher in this series. He teaches science methods at the University of Tennessee at Chattanooga. He has also been the director of Channel 9 Science Theatre, and has produced science lessons for the Weather Channel, About.com and a Christian satellite broadcasting Network. We received Volume Four and Volume Five, and all three of my girls have been watching this series.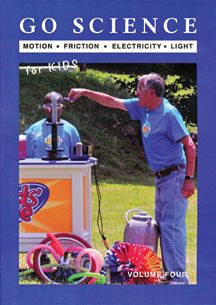 Go Science DVD Series Volume Four is 55 minutes long. It covers Motion, Friction, Electricity, and Light. Each topic has a couple different experiments. Motion contains the Tablecloth Trick, High Bounce Ball, Marble Gravitron, Yo-Yo Big Spool, and the Bowling Ball. Friction has experiments for Friction and Floating Rice. Electricity shows a Simple Motor, Nail Magnet, and Jumping Rings. Light contains Food Coloring & Bubbles.
Go Science DVD Series 2 Volume 5 is one hour long and covers States of Matter and Water. The experiments for State of Matter are Ice Cream, Oobleck, Density Column, Ice Block Melt, Run Through Corn, Starch and Water, Pitcher of Cold Water, Put in Hot Water, Putting in Ice Water, Float or Sink, Making Butter. For Water we see experiments on Traveling Water, Antimagnetic Water, Pouring Water, Burning Money.
On each of the experiments Ben Roy is in front of a group of kids. He shows them everything he is going to use and asks questions as he goes about what he is doing. He also relates science and his experiments from a Christian perspective. He does a very good job at relaying to the kids what is happening and why.
My girls really enjoy watching the experiments and I think it is unanimous that they loved the burning money the best. Even though we have completed some of the experiments before I really like how Ben Roy gets the biblical point across to the kids in a way they can understand.