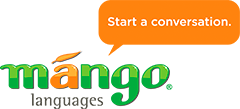 My girls think it is so much fun to learn new languages. Even if they don't speak them fluently they like to take an English word and think of how many languages they can say that word in. They know some Spanish, and a little Latin, Japanese, and German. The biggest problem we have here is deciding on what language to learn without buying each child their own program. We have been using

Mango Homeschool Edition

from

Mango Languages

and we don't have that problem anymore because they offer over 60 different languages to choose from, and you may learn as many at one time as you want.
When we first heard of Mango Languages I gave my girls their choice of language they wanted to learn. Amber & Delaney chose to learn Finnish because their grandma is from Finland and still speaks Finnish to her mother and sister. Alaina wanted to learn Japanese. Mike and I lived in Japan for four years a long time ago, so I think that is why she wanted to learn it.

Mango Languages

has been around for 7 years. They started in public libraries and you may have access at your library but there are some differences to the program. The library will only have one level for each language where the Mango Homeschool Edition has all levels for all the languages. The Homeschool Edition also has the community feature where you will have access to forums & private chats.
The

Mango Homeschool Edition

offers over 60 different languages for ages 6 to adult for one price. You may pay monthly or a year subscription. The more students you have the cheaper it is per student, with 6 or more qualifying for a special group rate.
1 subscription is $18/month or $125/year total
2 subscriptions is $28/month or $175 /year total
3 subscriptions is $38/month or $225/year total
4 subscriptions is $48/month or $275/year total
5 subscriptions is $58/month or $325/year total
When you first login you will be able to set up your profile, manage your account, and select your language. You as the parent will also be able to create a space for your school/family where you may add all your students. You will be able to send them a private note, view their profile, the languages they are using, and notice if they have published any public blog entries.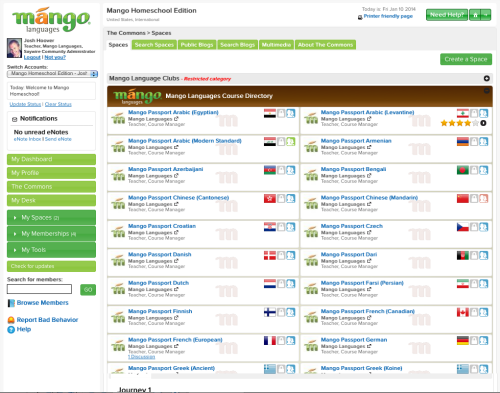 Once you have everyone set up and their language has been selected you are ready to start learning. When I first click on the language I am given a few brief facts about how many people in the world speak this language which we thought was very interesting. Only .09% of the world actually speak Finnish.
The passport to Finnish includes audio and pronunciation guidance from native speakers, conversation and grammar goals, voice comparison tool, cultural insights, customs and etiquette, phonetic spelling on-demand grammar notes. During Finnish Journey 1 you will learn:
Greetings, Gratitude, Goodbyes

Inquiring About Someone's Nationality

Asking What Languages Someone Speaks

Names and Introductions

Getting Around

Shopping and Payment

Drinks and Dining

Numbers and Currency

Getting Help

Asking for Clarification
When you log in to learn your language you have the option of browsing the course menu or starting exactly where you left off even if you are in the middle of a lesson. At the beginning of each lesson you are given a list of goals that you should acheive in the lesson. The lesson is basically a group of 50 or more flashcard size boxes that either introduce you to a new word, ask you to say words you already know or combine new words with previous ones. You have a time limit for saying each word, but you can easily add more time if you need it. If you do not know how to say the word at all you may have it read to you as you view the word. Each lesson will work on words already learned and introduce new words.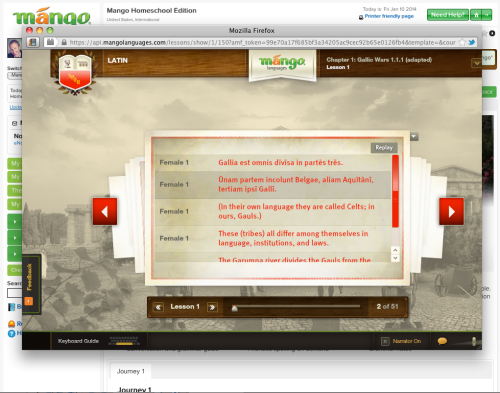 All three of my girls made a set of flash cards by writing each new word as they were introduced. They would put the new word on the front with the English translation on the back. This made it very easy to review words when they weren't actually working in Mango. Amber has actually been learning Finnish, but she has been helping Alaina review her Japanese flashcards & she is picking up a lot of words just by drilling with her everyday. They all have their own Mango account, but Amber & Delaney would review and converse together once they were finished.
We have actually been using the beta version of Mango, so they still have some great features that will be added soon. They want Mango to be like a community where you will have access to chat boxes, so you may speak with others learning your language and eventually with people who already know the language. They are hoping to add quizzes, list all of a student's accomplishments, and display the time they have been working with their progress.
Mango Homeschool Edition has been very easy to use for all of us. Amber (age 13), Delaney (age 11) & Alaina (age 9) didn't have any trouble logging in and getting started each day. Alaina has been a little slower than the other two, but it didn't matter if she stopped in the middle of the lesson because it would start her exactly where she left off the next time. There is really no preparation on the teacher part & if your student is high school or you like tests & quizzes they will be coming soon to help you keep records.