We have used

Math-U-See

for years and for a couple of my girls it is the only thing that

worked

for them. The Demme Learning Team has just released a new product called

Spelling You See

for elementary students. Alaina has been using Spelling You See: Americana (Level D) and is loving it.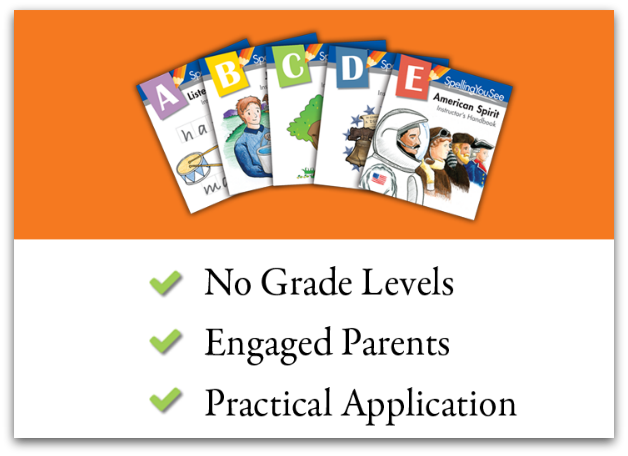 Spelling You See is different from other spelling programs. There are no grade levels and they do not give a list of words to work on and memorize for a test at the end of the week. Instead they work on writing as the course proceeds through The Five Stages of Spelling:
Stage I: Preliterate
Stage II: Phonetic
Stage III: Skill Development
Stage IV: Word Extension
Stage V: Derivational Constancy
This approach to spelling was developed by Dr. Karen Holinga. She has over 30 years of experience teaching elementary school and as a college professor. The design of her program helps students develop spelling skills naturally at their own pace.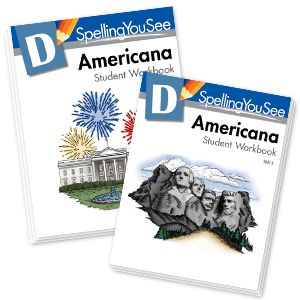 Americana

is in the Skills Development Stage and is for third grade children that are established readers, and students over 10 who are strong readers but struggle with spelling. Students read nonfiction stories about American history and culture. The reading level increases to provide more vocabulary development & to allow students to spell more words. The student pack consists of 2 workbooks for

$30

and the Instructor's Handbook is

$14

.
There are 36 weekly lessons divided into 5 parts. There are 3 main activities throughout the course, chunking, copywork, and dictation. The student workbook consists of 2 pages per day. Each day the instructor reads the passage with the student to guide and help with unknown words. The student will then start "chunking" (coloring various letter patterns) with the aid of the instructor. There is also copywork or dictation for each day.
In the "chunking" activities the student is directed to color or circle selected vowel or consonant chunks with a certain color. Those chunks will have the same color throughout the student book, so they will visually remember the spelling pattern. There are colored boxes on the student pages that contain the chunks that will be colored that color. For example the consonant chunks ch, gh, ph, sh, th, wh, etc. are inside of a blue box & those chunks should be highlighted blue.
The chunking and copywork should be done the first three days of the week, with only spending 10 minutes on the copywork.
On day 4 you will dictate the passage to the student for 10 minutes. The teacher will read the passage word for word helping the student with all spelling, punctuation, and capitalization without stopping the clock. Day 5 you will repeat the dictation, but you will have to student try and spell any difficult words on their own. This should still only be done for 10 minutes with help for punctuation & capitalization.
The Instructor's Handbook includes instructions on how to use the course, colored answer key to check the "chunking" easily, all the dictations, frequently asked questions, and a glossary.
Alaina is a very good reader, so I would have her read the passage to me & then we would go over the vowel or consonant chunks & she would use the suggested color of highlighter to mark them all in the text. Then she would work on her copywork, and so far she has completed this right at the 10 minute mark each day. The first couple of weeks she was a little slower on the dictation, but she is getting most of it finished in the 10 minutes now.
Alaina is loving Spelling You See, she makes sure we get it done first thing in the morning. She enjoys the selected passages about American history & culture, and she can't wait to get her highlighters out and "chunk" her paper. She really likes the dictation, but she wants me to dictate more than just one word at at time, she likes me to dictate a phrase or the whole sentence.
Although we have only been using this for a few weeks I can already see an improvement in her spelling. She isn't just memorizing spelling words she is actually starting to think about how words are spelled instead of just writing the way the word sounds. This program is also helping her with more than spelling. Her penmanship is better because she likes to write very nice like the printed words in the lesson, and she is listening for punctuation during the dictation.
We will finish out this level & I plan on purchasing the next one for her when she is finished. There are only Spelling You See levels available for elementary right now, but I'm hoping they come out with some higher levels my other girls could use.