You may have heard of
IXL
, they have been around for awhile providing online math drills for PreK-12 grade. You may not know that they now have language arts practice for grade 2-4. We received one year access to
IXL Language Arts
for Alaina to use.

IXL Language Arts
offers
82 skills for 2nd grade
,
106 skills for 3rd grade
, and
111 skills for 4th grade
. You can get one year access to IXL Language Arts or Math for $79.00. You may also purchase them both together for $129.00 per year. Each additional child is $2.00 per month or $20.00 per year. A monthly subscription may be purchased for $9.95 for either Math or Language Arts or $15.95 for both.
When you first sign in, IXL will give you the choice to choose a student or the parent. You both have the same login information but separate areas within the program.
In the Parent section you can manage your account, profile, and settings. You will also be able to view your state language arts standards for all three grades. You may also check on your students progress. There are graphs that show how long your child has been practicing, how many they have attempted, and the number correct. You can also see how much your child has mastered & what needs improvement. In the Parent Account you can also complete all the problems that the student has access to.
When the student logs in to practice they can choose the grade level they would like to work in. Then they can choose the topic that they need to practice on. You do not have to complete the skills in order they are listed, and you can move back and forth between grade levels. Once a topic is chosen the student is given a question to answer. If the question is answered correctly then they move on to the next question. If they answer it incorrectly they will be able to see the correct answer and an explanation of the topic they are working on.
Fourth Grade skills selection.
Sample Question
Display when a question is answered incorrectly.
Alaina is almost 9 and started out working on some 3rd grade skills. She found that they were pretty easy for her, so she moved up to the 4th grade section. She didn't have any trouble logging into her account and she could tell which section she had completed because it shows her score next to the completed section.
Alaina has a love/hate relationship with IXL. She doesn't mind working on her problems, but sometimes she doesn't pay attention to the instructions. When she was working on sentence fragments she automatically assumed that she would click on the fragment each time, so when the directions changed and asked her to click on the complete sentence she would miss the problem. She didn't miss it because she didn't know the answer she would miss it because she didn't follow the directions. From a parent/teacher standpoint I think it is teaching her to be more careful in her work. I think there are plenty of practice exercises in IXL for any student & this has been a great supplement that Alaina can use completely on her own.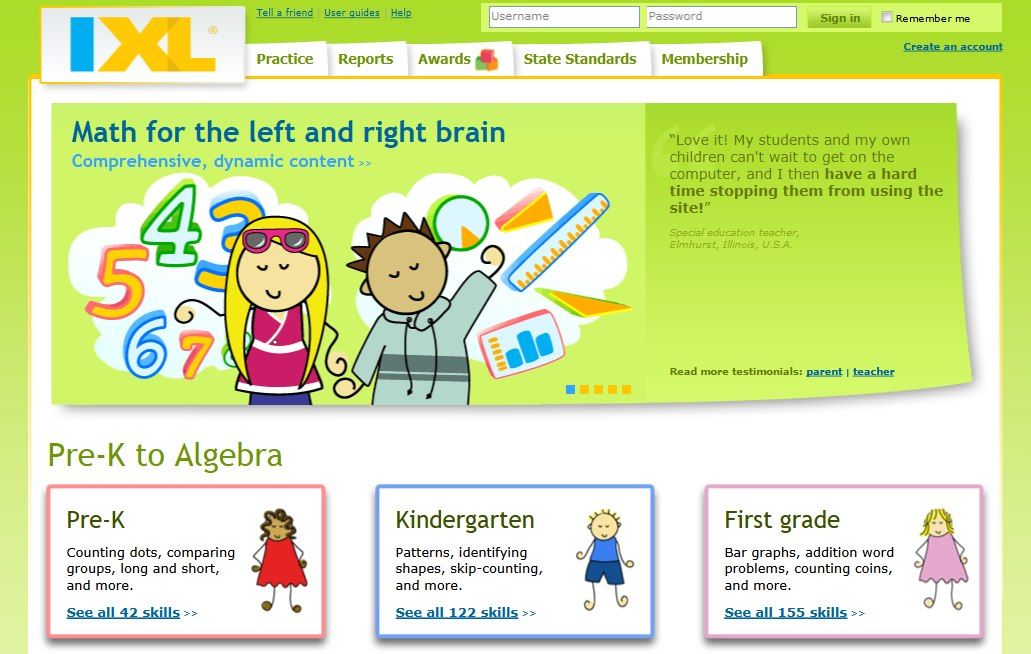 We only used the language arts, but IXL Math has practice problems for grades PreK-12. It is divided into grade level from PreK-8 grade & then there is Algebra 1, Algebra 2, and Geometry practice levels.
More advanced levels of Math Skill practice and Language Arts practice are on the way & you can sign up to receive an email if you want to know when a new level is available.