This fall we went on vacation to the Grand Canyon. We were there when most America children are normally in school, so the majority of the people we came in contact with were foreigners. Amber was very intrigued with all the different languages we heard and we had fun guessing where each one was from. Amber decided then that she would like to learn at least some words of as many different languages as she can, so when we were offered
French Essentials
to review she was very excited.
French Essentials is a complete French curriculum designed especially for home learners. It was designed by French teachers and does not require any previous knowledge of French. Individual Modules may be purchased for $69.95 and will give you 90 days of online access. The
French Essentials Full Access Program
may be purchased for $149.95 with a full year access.
The French Essentials program includes:
Downloadable lessons & printable workbook pages plus all parent documents.
Online exercises & activities
Online lesson tests
Savais-tu? (topics on French culture)
French Essentials Full Access Program is recommended for students in grades 3-12. Anyone wanting to learn French could benefit from using this program, but the worksheets probably wouldn't work with anyone younger than 3rd grade. The program contains 10 modules (6-10 are not available yet) that would equal 2 years of High School French classes. Younger children will work at a much slower pace and could use one module a year or a high school student could finish in a much shorter time. French Essentials uses reading, writing, listening with comprehension, and speaking in their curriculum. An
outline
for each module is available, and a
free trial lesson
. In order to use the program correctly you will need Acrobat Reader, Flash Player, and Quicktime.
After we received
access
to French Essentials I visited the Download area to obtain our lessons & workbook pages. I printed the worksheets out and made copies for each kid. The lessons are in a different file that is also downloaded and uses Adobe Reader. Throughout the lessons there are video & audio files to be used. The link for these files are included on the lesson page. If you see a box with an owl inside you will listen to the each word and then repeat it, if there is a microphone in the box you will hear a question in French and you are to answer it in French, and the box with the TV you will just listen. When the audio/video box is clicked it will appear in the top right hand corner of the Adobe Reader page that is open. A clipboard with a pencil indicates that you should complete a worksheet.

The student has access to their own area that make it easy to use.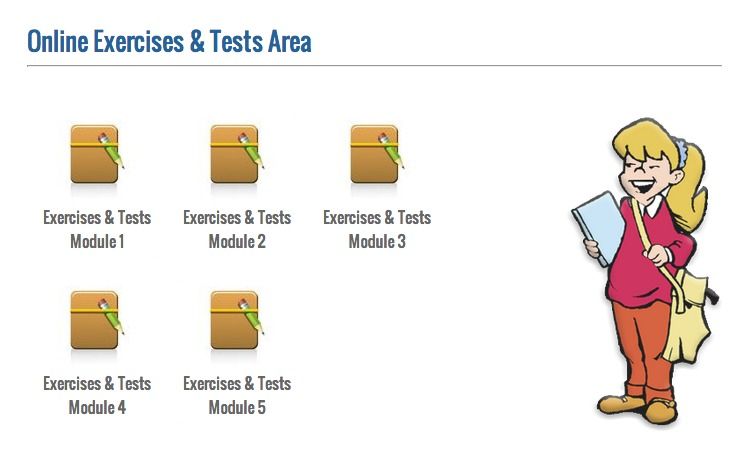 It is easy to access the online exercises and tests by Module. It was easier for us to download one Module at a time. Actually I downloaded all the worksheets and Amber went in and dowloaded the Modules.
We had to log into French Essentials to access the Culture section. Here we found maps, videos, historical information, and more.
Amber (age 12) and Delaney (age 11) used this curriculum. I originally wanted to learn some French right along with them, but on the second lesson they didn't want to wait for me to finish making lunch, so they went on without me. From then on they used the program entirely on their own. They could find their lesson and follow it very easily. The pictures that indicate when to use the audio and when to complete the worksheet made using this program so easy. The first three lessons are pretty simple and contain no online lesson. My girls went through these pretty fast and they are almost finished with Module 1. There is a
placement test
that you can have your student use if they already know some French.
Module 1 is divided into 5 units with 18 lessons and my girls just finished lesson 14. They started out learning the alphabet with audio files spelling words to them in French and they had to write the correct letter to see what the word was. They also worked on some silent letters, greetings, common phrases, activities, numbers, and more. My girls are already using their new words around the house and they have been counting in French during PE.